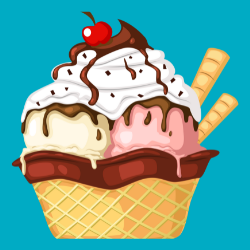 Whatever you are doing this summer, whether you are off on an adventure, hanging out at home, sitting by the pool or visiting family, it's always a good idea to bring a book or two along for the fun.
And if you are a young person who has signed up for your local library's summer reading club, reading those books might even mean you could earn you prizes, certificates or opportunities to participate in fun activities.
CELA works with three of the biggest summer reading clubs in Canada to make sure that kids with print disabilities can join in the fun. Summer reading is a fantastic way to engage the imagination and can help support literacy skills and academic success in the coming year. Whether you read traditional print or use audiobooks or other accessible formats, the way our brains decode and process what we are reading is very similar. Reading is reading whether you are using your eyes or your ears! ( Check out this article to learn more.)
 Learn more about the clubs we work with:
New Brunswick Summer Reading Club: This year's theme is all about getting from one place to another – whether it's on a train, a plane, a horse or your bike! Find accessible versions of some of the featured titles in our collection. 
BC Summer Reading Club: Join in the fun with this year's theme Let's get All Together Now! Find great books from the BC Summer Reading Club in our collection. 
TD Summer Reading Club: Spend time with dragons, monsters and magical creatures as the TDSRC celebrates Once Upon a Time; Myths and Legends. Books are available in both French and English. And don't forget to ask your library for an adapted notebook, or download your own here.
5 ways to make summer reading clubs even more fun:
Join in as many of the programs and events as you can. Let your library staff know what adaptations you need to fully participate in the programs. It's great if you can do this in advance of the program. Many libraries ask during the registration process if you require accommodations. And if libraries need a little support they can always visit our webpage about inclusive programming for kids and teens. 
 
Check out the list of accessible books we have for your local summer reading club. We've linked them above in the program descriptions. If you need even more books to complete your summer reading goals, you could grab some from the other summer reading club programs or programs like Hackmatack or Forest of Reading.
 

Share what books you are reading! Whether you share a review with your local library, your family or on social media (tag us on Facebook or Twitter!) sharing what you loved or didn't love about the books you are reading is a great way to have interesting conversations about books – and to let people know that accessible books matter to you. 


 

Set up your own battle of the books. While some clubs have a battle of the books component, there's nothing stopping you from also setting up your own – and maybe include family or friends. Which of your summer reads will be your ultimate favourite? And what could you do to celebrate it? (We vote for having cake to celebrate – maybe with ice cream!)


 

Visit your local summer reading club website for even more fun, activities and ideas.


 
Summer and reading go together like cake and ice cream. Joining in with your local library's Summer Reading Club is like adding the cherry and some chocolate sauce on top! Just don't get it on the books!
 
15309