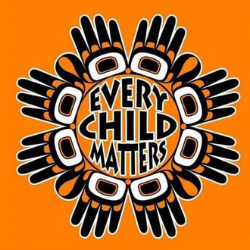 Stories have played, and will continue to play, a role in educating Canadians, young and old, about the terrible legacy of Residential Schools. There's no excuse not to know the history or its impact.
~ Indigenous author  David A. Robertson
As National Indigenous History Month draws to a close, Canadians are grappling with the discovery of hundreds of unmarked graves at Marieval Indian Residential School and the Kamloops Indian Residential School, and the prospect that there may be more discoveries to come.
Books have always played a role in educating and sensitizing us to the experiences of others and so this month, to honour those who have been lost, CELA has been featuring books about Residential Schools as resources for those who wish to better understand the irreparable harm done to the Indigenous Communities. Wherever possible, the books we have chosen come from Residential School survivors and their families or communities. The book selections include memoirs, fiction and nonfiction for adults and children.  We hope you will find these resources helpful. 
Books for Adults
Truth and Reconciliation Reports from the Truth and Reconciliation Commission which was charged to listen to Survivors, their families, communities and others affected by the residential school system and educate Canadians about their experiences.
Five Little Indians by Michelle Good won the 2020 Governor General's Award for Fiction.  Taken from their families when they are very small and sent to a remote, church-run residential school, Kenny, Lucy, Clara, Howie and Maisie are barely out of childhood when they are finally released after years of detention. Alone and without any skills, support or families, the teens find their way to the seedy and foreign world of Downtown Eastside Vancouver, where they cling together, striving to find a place of safety and belonging in a world that doesn't want them. The paths of the five friends cross and crisscross over the decades as they struggle to overcome, or at least forget, the trauma they endured during their years at the Mission.
The Education of Augie Merasty  a memoir by Augie Merasty takes readers inside his time at residential school, where he was taught to be ashamed of his family and his culture and where he experienced emotional and physical abuse.
Indian Horse by Richard Wagamese details the life of Saul, who was taken forcibly from the land and his family when he's sent to residential school. But he finds salvation and opportunity through his incredible gifts as a hockey player. Award winner. 
Picking up the pieces by Carey Newman tells the story of the making of the Witness Blanket, a living work of art conceived and created by Indigenous artist Carey Newman. The Blanket includes hundreds of items collected from Residential Schools across Canada, everything from bricks, photos and letters to hockey skates, dolls and braids and every object tells a story. This story has also been made into a documentary. 
The Red files by Lisa Bird-Wilson This debut poetry collection from Lisa Bird-Wilson reflects on the legacy of the residential school system: the fragmentation of families and histories, with blows that resonate through the generations.Inspired by family and archival sources, Bird-Wilson assembles scraps of a history torn apart by colonial violence.
Bob Joseph is a a Gwawaenuk Nation member and trainer who has written two books to help us understand and improve relationships with the Indigenous Communities. Indigenous relations: insights, tips & suggestions to make reconciliation a reality and 21 things you may not know about the Indian Act: helping Canadians make reconciliation with Indigenous Peoples a reality. 
Seven fallen feathers: racism, death, and hard truths in a northern city  by Tanya Talaga   Over the span of ten years, seven high school students died in Thunder Bay, Ontario. The seven were hundreds of miles away from their families, forced to leave their reserve because there was no high school there for them to attend. Award-winning journalist Tanya Talaga delves into the history of this northern city that has come to manifest, and struggle with, human rights violations past and present against aboriginal communities. Bestseller. Winner of the 2018 RBC Taylor Prize and the 2018 Shaughnessy Cohen Prize for Political Writing. 2017.
Books for young children
When We Were Alone By David A. Robertson and  Julie Flett.   As a young girl asks her grandmother about her long braided hair, beautifully colored clothing and her different language, she is told about life in a residential school a long time ago, where all of these things were taken away.
Shi-shi-etko and the sequel Shin-chi's canoe (also available in printbraille) by Nicola I Campbell and illustrated by Kim LaFave. 2008
Shi-shi-etko just has four days until she will have to leave her family and everything she knows to attend residential school. She spends her last precious days at home treasuring and appreciating the beauty of her world — the dancing sunlight, the tall grass, each shiny rock, the tadpoles in the creek, her grandfather's paddle song.
In the sequel Shi-shi-etko reminds Shinchi, her six-year-old brother, that they can only use their English names and that they can't speak to each other. He finds solace at the river, clutching a tiny cedar canoe, a gift from his father, and dreaming of the day when the salmon return to the river — a sign that it's almost time to return home
Stolen words by Melanie Florence and illustrated by Gabrielle Grimard, When a young child asks her grandfather how to say something in his language - Cree - her grandpa admits that his words were stolen from him when he was a boy. The little girl then sets out to help her grandfather regain his language.
For older children
The Orange Shirt Story: The True Story of Orange Shirt Day by Phyllis Webstad  When Phyllis Webstad (nee Jack) turned six, she went to the residential school for the first time. On her first day at school, she wore a shiny orange shirt that her Granny had bought for her, but when she got to the school, it was taken away from her and never returned. This is the true story of Phyllis and her orange shirt. It is also the story of Orange Shirt Day (an important day of remembrance for First Nations and non First Nations Canadians).
Fatty Legs and a Stranger at Home by Margaret-Olemaun Pokiak-Fenton
Taunted and humiliated by Raven, the unkind nun in charge of the young Inuit girls at her residential school, Margaret  is willing to endure almost anything as long as she can learn to read. The unpleasant chores don't daunt her, but the teasing of other students and the unfair punishments do. When she is the only girl forced to wear ugly red stockings, however, Margaret has enough, and fights back.
In a Stranger at Home, the sequel to Fatty Legs  10-year-old Margaret Pokiak can hardly contain her excitement - it's been two years since her parents delivered her to the  school run by the dark-cloaked nuns and brothers. But Margaret soon realizes that she's an outsider in the Arctic - she's forgotten the language and stories of her people, and she can't even stomach the food her mother prepares. As she struggles to reclaim her way of life, she discovers how important it is to remain true to the ways of her people - and to herself. Sequel to "Fatty legs"
I am not a number By Kathy Kacer and  Jenny Kay Dupuis  When eight-year-old Irene is removed from her First Nations family to live in a residential school she is confused, frightened, and terribly homesick. She tries to remember who she is and where she came from despite the efforts of the nuns to force her to do otherwise. 
These are my words: the residential school diary of Violet Pesheens (Dear Canada series) by Ruby Slipperjack. 2016 Twelve-year-old Violet Pesheens is taken away to Residential School in 1966. The diary recounts her experiences of travelling there, the first day, and first months, focusing on the everyday life she experiences and the choices she must make.
As long as the rivers flow by Oskiniko Larry Loyie, and Connie Brissenden.  It is Larry Loyie's last summer before entering residential school, a time of learning and adventure. He cares for an  abandoned baby owl, watches his grandmother make winter moccasins, helps the family prepare for a hunting and gathering trip. But soon, a truck comes to forcibly take Lawrence and his siblings away to their new school, which would try to erase their traditional language and culture. Grades 3-6.
Speaking our truth: a journey of reconciliation By Monique Gray Smith makes the Truth and Reconciliation Reports accessible to younger readers, and uses questions to prompt young readers to think about these complicated issues.
My Name Is Seepeetza by Shirley Sterling  An honest, inside look at life in an Indian residential school in the 1950s, and how one indomitable young spirit survived it. At six years old, Seepeetza is taken from her happy family life on Joyaska Ranch to live as a boarder at the Kalamak Indian Residential School. Life at the school is not easy, but Seepeetza still manages to find some bright spots. Always, thoughts of home make her school life bearable.
The Train by Jodie Callaghan  Ashley meets her great-uncle by the old train tracks near their community in Nova Scotia. Ashley sees his sadness, and Uncle tells her of the day years ago when he and the other children from their community were told to board the train before being taken to residential school where their lives were changed forever. They weren't allowed to speak Mi'gmaq and were punished if they did. There was no one to give them love and hugs and comfort. Uncle also tells Ashley how happy she and her sister make him. They are what give him hope. Ashley promises to wait with her uncle by the train tracks, in remembrance of what was lost.
These are my words: the residential school diary of Violet Pesheens (Dear Canada) by Ruby Slipperjack    Twelve-year-old Violet Pesheens is taken away to Residential School in 1966. The diary recounts her experiences of travelling there, the first day, and first months, focusing on the everyday life she experiences--the school routine, battles with Cree girls, being quarantined over Christmas, getting home at Easter and reuniting with her family. When the time comes to gather at the train station for the trip back to the residential school, her mother looks her in the eye and asks, "Do you want to go back, or come with us to the trapline?" Violet knows the choice she must make. Grades 4-7. 2016.
15335