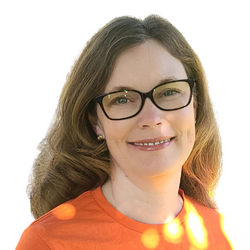 This month Rachel Breau, CELA's Manager of Member Services, is celebrating 20 years of working with CELA and its predecessor, the CNIB Library. Twenty years is a significant amount of time in any role, and marking that achievement in a job dedicated to serving the print-disabled community and the libraries who serve them deserves special recognition. At a recent team lunch in Rachel's honour, CELA's Board Chair Catherine Biss offered her thanks:

"On behalf of the CELA Board, I want to congratulate Rachel and thank her for her 20 years of dedication. Since CELA's inception, Rachel has been instrumental in nurturing a customer-focused mindset and supporting libraries as they grow their focus on equitable access. Most recently, the Board has been grateful for her insightful contributions to our strategic planning process and her excellent work onboarding 50 libraries from the province of Manitoba. Rachel, we're so pleased to celebrate this milestone with you!"

We took a few minutes to chat with Rachel about her career with CELA and how the accessible reading landscape has changed in 20 years.

CELA: Rachel, please tell us how you got into this line of work.

Rachel: Like most librarians, I think, I decided to go to library school because I loved books and the whole idea of what libraries mean to a community. When I graduated from McGill, there was a position available with the CNIB as their Music Librarian. It felt like it was a perfect fit as I had done my undergrad in music. I was thrilled to get the job, and over the years, my role with CNIB and CELA grew. My work is really varied. I love that I am involved in everything from supporting libraries, working on training and outreach for library staff and our users, to overseeing our Educator Access programs and our participation in the TD Summer Reading Club. No two days are the same.

CELA: From your vantage point, how has the world of accessible reading evolved over the last two decades?

Rachel: It's evolved significantly over the last 20 years. Not only have the technologies changed, such as switching from cassettes to CDs, to now downloading audio books, but there's also been a shift in the willingness to learn about newer technologies, especially when we can support our users and library colleagues with the right training.  I was fortunate to be the Project Manager on a project in the mid-2000s that studied how adults with print disabilities use DAISY audiobooks. It was rewarding to watch someone with very little technological background use a computer and a new DAISY player with ease. Libraries have certainly taken a much stronger role in supporting accessible reading and expanding their services to support people with varying disabilities. The world of accessible reading is certainly better than it had been when I first started.

What I appreciate most about working with CELA, though, is that our commitment to our users has not changed. Our goal always has been – and always will be – to offer our users real choices in the books they can read and the ways they can read them.

CELA: What have been some of the major service and tech changes you have seen during your tenure?

Rachel: There have been so many amazing changes that it's hard to narrow a few down. I think the one that has the most impact to our users is the increase in the number of titles. Through our publisher agreements and work with international partners, we've been able to add many more popular and bestselling books that our readers love. The technology used to read books continues to change. A few years ago, we revamped the way we supplied embossed braille to our users to improve their reading experiences. And, of course, we just finished a pilot project to test new ways to deliver audiobooks.

I think the biggest service change was establishing CELA and that fundamental shift from a charitable model through CNIB, to involving public libraries to work towards the goal of equitable library services. That shift also allowed us to develop our service to all people with print disabilities. We know that one in 10 people have a print disability, so broad based equitable access is crucial.

CELA: Do you have a favourite story about working with CELA?

Rachel: There are so many! I especially love to hear from library staff who share stories about how their patrons are able to participate in book clubs, kids reading programs and other activities because the books are available in formats they can read.

I've given many presentations over the years, and, once in a while, the unexpected happens. I was giving a presentation about CELA to a small group of new CNIB clients. I always like to play a sample of an audiobook to give a sense of what they sound like, and, like always, I had brought a DAISY CD and a DAISY player to give the demonstration. Normally, I would carefully select the sample to find a part that would be interesting to hear. When I pressed Play at this particular session, there was silence for a few seconds as the audience waited to hear a sample of the book, then the narrator said "The End", and the whole room burst out laughing! I went to an earlier passage in the book so they could hear a bit of the story, of course. In the end, I came away not only having learned a lesson about preparation, but also feeling deep gratitude for our users who learn and grow – and sometimes laugh – right alongside us.

Thanks, Rachel, for you dedicated service!
15317