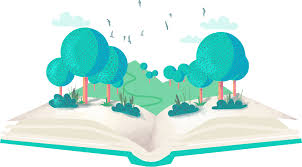 Theresa Power is CELA's Content and Access Librarian, with the enviable job of selecting books for our collection. Theresa works closely with the Forest of Reading program, to ensure that students with print disabilities are able to read accessible versions of the Forest of Reading titles so they can participate in the program alongside their classmates. She recently chatted with one of the committee members about the Forest of Reading program.

Theresa Power (TP): I've been lucky to work with the Forest of Reading for a number of years, both as a volunteer for their White Pine and Red Maple Committees, but also professionally, choosing which books CELA is able to offer in accessible formats. It makes sense then that my inaugural blog post is about a group with whom I've accumulated many hours of reading and discussion. I sat down (virtually) with fellow Forest of Reading volunteer and co-chair of the Silver Birch Fiction Committee, Lauren Flattery a former teacher librarian, to talk the ins and outs of the Forest, how books get from committees to the final list and what reading has been like during Covid-19.
TP: Can you talk about your role in the Forest and what drew you to volunteer for the program?
Lauren Flattery (LF): I am the co-chair of the Silver Birch Fiction Committee, although I was on the steering committee many years ago.  Volunteering with the Forest is a way of giving back to a program that has been so important to my students and the teachers I worked with. I was a classroom teacher 20 years ago and the teacher librarian at that school ran a very successful Forest program. I made it a game in my class to get everyone to qualify to vote for Silver Birch Express or Silver Birch Fiction. We made it! A couple of years later, I became the teacher librarian and took over the program. When I changed schools, I started a Forest program in my new school. Volunteering for OLA was promoted heavily by the instructors in my Teacher Librarian Specialist course, so that was when I first applied for the steering committee.
TP: Generally, what is the process for choosing the final list of books? Are there any different practices between Trees?
LF: We preview the titles which have been nominated by the publishers and try to weed out any that we know right away would not be a fit for the list. As it is, the members read more than 100 books! Once we let Tinlids, our book distributor, know what we want the committee to read, boxes of books are shipped out. Members read the books in whatever order they choose and comment and rate them online. The rating and commenting sometimes encourages members to take a second look at a book they didn't like at first. In late August we have a teleconference to finalize the list. In preparation for this, members are asked to submit their top 15 picks for Fiction and top eight picks for Express. I compile these results in a spreadsheet and share them with the committee before we sit down to hash out the final lists. The first few titles are easy (usually) and don't need much discussion. Then we drill down a little harder with the next few. In the end, we make sure the list is balanced for genre and representation. Gender used to be a much bigger issue than it is now -- were there enough "boy" books? Now that isn't even a thing. Now we focus a lot on authentic voices and all kinds of representation. The bottom line is literary quality -- a book may be representative, but it needs to be of very high quality to make the cut. Luckily, we have some very, very fine writers in this country and the quality rises every year. Pressure from OLA encourages publishers to seek out these fine writers. Other Trees tend to have shorter discussions -- we are infamous for taking two or more hours for the final lists. Blue Spruce doesn't have an online discussion -- at least they didn't used to, just a teleconference.  We have to fight with Red Maple sometimes over titles -- right now we owe them a debt next year.
TP: Were there any trending topics you saw in what you read through the year? Should we look forward to more vampire books? 😊
LF: Wow, that threw me for a loop! I'm not sure why. I think that every committee member might have a different answer for that. Here's my take -- BIPOC portal fantasy -- fantasy that draws on the rich cultural heritage of all the peoples in the world. That's what I see as trending and it is well-deserving. 
TP: Were there any titles that you read that you really enjoyed, or jumped out at you? Any controversies or books that were hotly debated?
LF: I cannot divulge titles in any way or for any reason -- and even if I could, here's the deal. Committee members are charged with standing by every choice of the committee, so any controversy or favoured title shall forever remain unknown by the public at large. That said, most years there is something that jumps out that we all love, or that we think might be too edgy for our demographic. But if we "stand" by it and we choose it, we welcome defending it against any controversy. We do sometimes have to vote between two titles. From time to time, one of the members has a particular viewpoint due to lived experience that changes the game on a title. The process remains a little opaque, I realize, but I believe it works. The real winners are chosen by the kids.
TP: COVID has really changed, well everything, from how we work, live, eat, enjoy. Can you talk about how your group read through COVID? Were there any challenges, or triumphs?
LF: Ugh. No kidding. For myself, I had a period of time where anything I read seemed flat and dull. Luckily, other people were posting similar experiences, so I knew I wasn't the only one. We had to switch to reading PDFs, which are not exactly equivalent to reading eBooks and depended heavily on people's internet connections. On the other hand, some members found the PDFs easier, as they had small children, and one member felt that she had more time, as she was working from home. As a chair, I felt more responsibility to check in with members and be more supportive than I have in past years. For the first time ever, I advised readers to go with their gut and not read books to the end if they were sure a title would not be a contender. 
TP: I think the committee made excellent choices, despite Covid changing the process a bit.  I am really looking forward to adding these to our collection. Thanks so much Lauren for chatting with me and giving us some insight to the process. To find out more about the Forest of Reading titles CELA is offering this year please check the Forest of Reading page on our website or visit our reading list.
Lauren Flattery is a retired Durham District School Board Teacher Librarian, currently employed by the Pickering Public Library.
Theresa Power is the Content & Access Librarian for the Centre for Equitable Library Access.
If you are interested in volunteering with the Forest of Reading, applications can be found on the OLA website. OLA seeks out participation from members with different library experience; members from all regions of Ontario; Indigenous Peoples; and members with diverse backgrounds including but not limited to age, race and ethnicity, sexual orientation, gender identity, and ability. If you have any questions about getting involved, please contact the OLA staff liaison for the committee/council.
15335