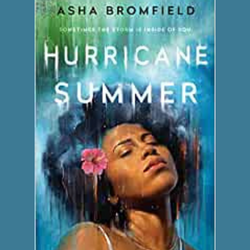 The 2023 theme for Black History Month is: "Ours to tell" and represents an opportunity learn more about the stories Black communities in Canada have to tell about their histories, successes, sacrifices and triumphs. We've collected a number of newer additions to our collection in our Black History reading list and featured some in our most recent Open Book newsletter. 
If you are interested in reading books about Anti-Black racism and building a more inclusive community there are a number of titles added to our collection over the past few year. 
And we've compiled a list of accessible versions of the books recommended on the CBC's list of 16 books for kids and young adults to check out during Black History Month. 
Hurricane summer: A novel by Asha Bromfield
In this sweeping debut, Asha Bromfield takes listeners to the heart of Jamaica, and into the soul of a girl coming to terms with her family, and herself, set against the backdrop of a hurricane. Tilla has spent her entire life trying to make her father love her. But every six months, he leaves their family and returns to his true home: the island of Jamaica. When Tilla's mother tells her she'll be spending the summer on the island, Tilla dreads the idea of seeing him again, but longs to discover what life in Jamaica has always held for him. In an unexpected turn of events, Tilla is forced to face the storm that unravels in her own life as she learns about the dark secrets that lie beyond the veil of paradise—all in the midst of an impending hurricane. Hurricane Summer is a powerful coming of age story that deals with colorism, classism, young love, the father-daughter dynamic—and what it means to discover your own voice in the center of complete destruction.
The Underground Railroad: Next Stop, Toronto! by Adrienne Shadd, Afua Cooper, Karolyn Smardz Frost
The Underground Railroad: Next Stop, Toronto! explores Toronto's role as a destination for thousands of freedom seekers before the American Civil War. This new edition traces pathways taken by people, enslaved and free, who courageously made the trip north in search of liberty and offers new biographies, images, and information, some of which is augmented by a 2015 archaeological dig in downtown Toronto. Within its pages are stories of courageous men, women, and children who overcame barriers of prejudice and racism to create homes, institutions, and a rich and vibrant community life in Canada's largest city. These brave individuals established organizations not only to help newcomers but to also oppose the ongoing slavery in the United States and to resist racism in their adopted city.Based entirely on original research, The Underground Railroad offers fresh insights into the rich heritage of African Americans who became African Canadians and helped build Toronto as we know the city today.
The bones of ruin by Sarah Raughley
An African tightrope walker who can't die gets embroiled in a secret society's deadly gladiatorial tournament in this thrilling historical fantasy set in an alternate 1880s London, perfect for fans of The Last Magician and The Gilded Wolves . As an African tightrope dancer in Victorian London, Iris is used to being strange. She is certainly a strange sight for leering British audiences always eager for the spectacle of colonial curiosity . But Iris also has a secret that even "strange" doesn't capture...​ She cannot die. Haunted by her unnatural power and with no memories of her past, Iris is obsessed with discovering who she is. But that mission gets more complicated when she meets the dark and alluring Adam Temple, a member of a mysterious order called the Enlightenment Committee. Adam seems to know much more about her than he lets on, and he shares with her a terrifying revelation: the world is ending, and the Committee will decide who lives...and who doesn't. To help them choose a leader for the upcoming apocalypse, the Committee is holding the Tournament of Freaks, a macabre competition made up of vicious fighters with fantastical abilities. Adam wants Iris to be his champion, and in return he promises her the one thing she wants most: the truth about who she really is. If Iris wants to learn about her shadowy past, she has no choice but to fight. But the further she gets in the grisly tournament, the more she begins to remember—and the more she wonders if the truth is something best left forgotten.
I Sang You Down from the Stars by Tasha Spillett-Sumner
A New York Times and CBC Books bestselling #OwnVoices love letter from an Indigenous mother to her new baby, new  from celebrated author Tasha Spillett-Sumner and 2021 Caldecott winning illustrator Michaela Goade, that honors the beauty of a little one's arrival. Available in printbraille. 
Where Are You, Agnes? by Tessa McWatt 
This stunning picture-book imagining of artist Agnes Martin's childhood gives readers a glimpse into the life and work of one  of the most esteemed abstract painters of the twentieth century. Agnes Martin was born on the Canadian prairies in the early twentieth century. In this imagining of her childhood from acclaimed author Tessa McWatt, Agnes spends her days surrounded by wheat fields, where her grandfather encourages her to draw what she sees and feels around her: the straight horizon, the feeling of the sun, the movement of birds' wings and the shapes she sees in the wheat. One day, Agnes's family moves to a house in a big city. The straight horizon and wheat fields are gone, but Agnes continues to draw what she sees and feels around her. No one except her grandfather understands what she is trying to capture — not her mother, who asks, "Where are you, Agnes?" when she sees her daughter engrossed in her drawing; nor her siblings, who think her art is ugly. Still, Agnes keeps trying to capture what she sees inside her mind. Agnes Martin grew up to become a famous abstract expressionist artist. Tessa McWatt has written a beautiful story of Agnes's childhood and how it might have shaped her adult work. Zuzanna Celej's watercolors adeptly capture Agnes's world, including hints of the grid paintings that she was later known for, against the backdrop of prairie and city landscapes. Includes an author's note with more information about Agnes Martin's life and the inspiration behind this story. 
Hockey Night in Kenya by Eric Walters, Danson Mutinda 
Kenyan orphans, Kitoo and Nigosi, spend their days studying, playing soccer, helping their elders with chores around the orphanage and reading from the limited selection of books in their library. When the librarian gives Kitoo a copy of Sports Around the World he becomes fascinated by an image of the Canadian national men's ice hockey team. Then one day the fates align and Kitoo finds a pair of beat up old roller blades, he teaches himself to skate and dreams of one day playing hockey like the men in his book. But you can't play ice hockey in Kenya, can you?
Facing the sun by Janice Lynn Mather
Eve is the rock in her family of seven, the one they always depend on. But when her dad is diagnosed with cancer, she wants nothing more than to trade her worries for some red lipstick and a carefree night. Faith is the dancer all the boys want, but she only has eyes for the one she can't have. The only thing is, all the flirting in the world can't distract her from her broken home life... or the secrets that she hides. KeeKee is a poet who won't follow the rules, not even to please her estranged father. But after a horrible betrayal, she'll have to choose between being right and losing everyone she loves. Nia is a prisoner longing to escape her overprotective mother. A summer art program might be her ticket to freedom, yet it comes with a terrible price—and the risk may not be worth the reward. Ready or not, it's time for these four friends to face the sun.
Charming as a verb by Ben Philippe
From the award-winning author of The Field Guide to the North American Teenager comes a whip-smart and layered romantic comedy. Perfect for fans of Nicola Yoon and Jenny Han. Henri "Halti" Haltiwanger can charm just about anyone. He is a star debater and popular student at the prestigious FATE academy, the dutiful first-generation Haitian son, and the trusted dog walker for his wealthy New York City neighbors. But his easy smiles mask a burning ambition to attend his dream college, Columbia University. There is only one person who seems immune to Henri's charms: his "intense" classmate and neighbor Corinne Troy. When she uncovers Henri's less-than-honest dog-walking scheme, she blackmails him into helping her change her image at school. Henri agrees, seeing a potential upside for himself. Soon what started as a mutual hustle turns into something more surprising than either of them ever bargained for. This is a sharply funny and insightful novel about the countless hustles we have to keep from doing the hardest thing: being ourselves. 
Dear Black Girls by Shanice Nicole, Kezna Dalz
Dear Black girls all around the world, this one is for you -- for us.Dear Black Girls is a letter to all Black girls. Every single day poet and educator Shanice Nicole is reminded of how special Black girls are and of how lucky she is to be one. Illustrations by Kezna Dalz support the book's message that no two Black girls are the same but they are all special--that to be a Black girl is a true gift. In this celebratory poem, Kezna and Shanice remind young readers that despite differences, they all deserve to be loved just the way they are.
15335