Overview
CELA's DAISY magazine service makes nearly 150 of today's most popular magazines available in a wide range of formats as soon as they are published.
Working in partnership with RB Digital, CELA is offering a service similar to Zinio for Libraries available through local libraries, in order to bring immediate access to those patrons interested in reading a wide range of diverse magazines. The magazines are available in DAISY text – a flexible format that can be adapted by persons with print disabilities to meet their specific reading needs.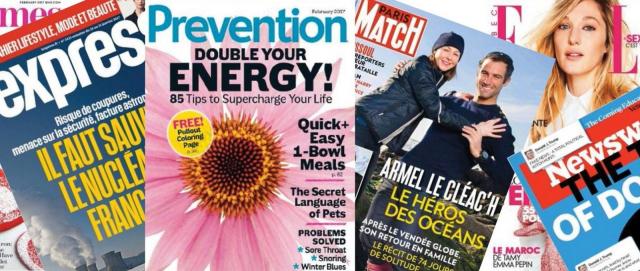 Which magazines are available?
CELA offers nearly 150 magazines covering a full range of interests including news and current events, business, lifestyle, health, home and food, entertainment, science and technology just to name a few. We've got a great selection of magazines for kids and young adults. There's something for everyone. Visit our Magazines page for a full list.
How do I find these magazines?
All our magazines are listed on the Magazines page on our website. You can also find them by searching the catalogue for the magazine's title.
Which issues of the magazines do you have?
The service launched in February 2017 with the current issues of the magazines. As new issues of the magazines are published the older editions will continue to be available for 1 to 2 years, depending on the frequency of publication. Issues published prior to 2017 are not available.
Which formats are these new magazines offered in?
The new magazines are available in DAISY text .zip and DAISY text Direct to Player formats. Your DAISY reader app or hardware device can read the text aloud to you. Depending on the app or device you use, you can also adapt the text in other ways to meet your needs. For example, you can enlarge the text or read highlighted text on screen while you listen to it.
What technology will the magazines work with?
To read these magazines, you will need a DAISY app such as Dolphin EasyReader for iOS/Android, Voice Dream Reader for iOS/Android, Dolphin EasyReader for Windows (desktop application) or a DAISY player. You will be prompted to open the document in the app you have installed on your device. You can also save the files to an SD card or CD and transfer them to DAISY hardware devices.
Tutorials on how to use DAISY text magazines.
How do I subscribe to

these

magazines

using Direct to Player

?
To subscribe to the Direct to Player magazines of your choice, send us a list of the magazines to which you wish to subscribe at help@celalibrary.ca or call 1-855-655-2273.
How do I access

individual magazine issues

?
You can access the magazines through our website using your CELA account number and password. Log in, and search for a magazine by title, or use the list on the Magazines page. You can download individual issues in .zip format or add them to your Direct to Player Bookshelf.
Please visit our Tutorials page for step by step instructions.
How soon after the magazine is published will it be available through CELA?
New magazines will be available as soon as they are published.
How are pictures and graphic elements handled?
Our DAISY magazine service includes images for those who can use them. Publishers have not included captions, so we are unable to provide image descriptions. To avoid disrupting the flow for those using braille or audio only, we have elected not to indicate where there is an image.
How many magazines can you download?
Direct to Player magazines

: 

The number of Direct to Player magazines you can download depends on your bookshelf settings. Review your bookshelf settings and contact us to adjust them.

DAISY.zip Magazines: You can check out up to a maximum of 25 DAISY (zip) books or magazine issues at any one time. You will continue to be able to read it on your device until you delete it.
What do I do when I am done with a magazine?
When you are finished with the magazine, please delete the files from your device or computer.
How can I provide feedback on the service and the magazines?
To offer feedback on CELA's new magazine service please complete our DAISY text magazines feedback form or email us at feedback@celalibrary.ca. We would love to hear how this new service is working for you, if there are enhancements you can suggest or if there are new magazine titles you would like us to add.
To provide feedback on the content of articles in the magazine, please visit or email the publisher directly.
My local library has an online Zinio magazine service. Is the CELA service the same as the one through my local library?
No. While there may be overlap in the titles we offer, the CELA service is entirely separate. CELA offers magazines in DAISY text, making it uniquely accessible for those with certain types of print disabilities. The accessible version of the Zinio collection is only available through CELA and only available through devices that can read a DAISY text file.
The Zinio app is not required to access CELA service nor is it able to read the accessible magazines offered through CELA.
Zinio for Libraries service offers a highly visual experience, which may be better suited to people with certain types of print disabilities. If your needs are being met by the service at your public library, there is no need to switch. We encourage you to use whichever service best meets your needs. For more information about "Zinio for Libraries", please contact your local public library.