Overview
CELA's DAISY magazine service makes over 150 of today's most popular magazines available in a wide range of formats as soon as they are published.
Working in partnership with RB Digital, CELA is offering a service similar to Zinio for Libraries available through local libraries, in order to bring immediate access to those patrons interested in reading a wide range of diverse magazines. The magazines are available in DAISY text, EPUB and Word – flexible formats that can be adapted by persons with print disabilities to meet their specific reading needs.
Note: CELA also offers magazines in audio and braille. For more information about audio and braille magazines, see the Magazines page.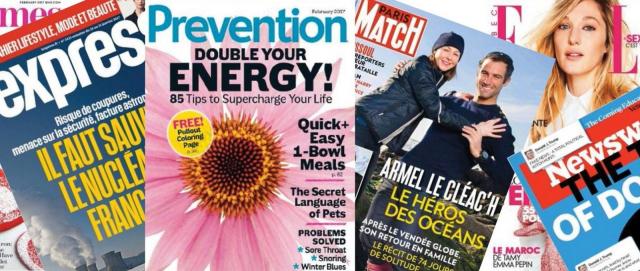 Which magazines are available?
CELA offers over 150 magazines covering a full range of interests including news and current events, business, lifestyle, health, home and food, entertainment, science and technology just to name a few. We've got a great selection of magazines for kids and young adults. There's something for everyone. Visit our Magazines page for a full list.
How do I find these magazines?
All our magazines are listed on the Magazines page on our website. You can also find them by searching the catalogue for the magazine's title.
Which issues of the magazines do you have?
Currently we offer the most recent issue and generally have 4-5 months of back issues. We expect to keep back issues for 1-2 years depending on the frequency of publication of each magazine.
Which formats are these full-text magazines offered in?
Full-text magazines are available in DAISY text, EPUB and Word formats. You can get the magazines delivered via Direct to Player or download the magazines in ZIP format. Your DAISY reader app or hardware device can read the text aloud to you. Depending on the app or device you use, you can also adapt the text in other ways to meet your needs. For example, you can enlarge the text or read highlighted text on screen while you listen to it.
What technology will the magazines work with?
To read these magazines, you will need a DAISY app such as Dolphin EasyReader for iOS/Android, Voice Dream Reader for iOS/Android, Dolphin EasyReader for Windows (desktop application) or a DAISY player. When you select Direct to Player magazines, they will appear automatically in Dolphin EasyReader or your configured DAISY player. If you want to read a magazine in DAISY text ZIP, EPUB ZIP or Word, you will need to open the document in the app you have installed on your device. You can also save the files to an SD card or CD and transfer them to DAISY hardware devices.
Tutorials on how to use DAISY text magazines.
How do I access

individual magazine issues

?
You can access the magazines through our website using your CELA account number and password. Log in, and search for a magazine by title, or use the list on the Magazines page. You can download individual issues in ZIP format or add them to your Direct to Player Bookshelf.
Please visit our Tutorials page for step by step instructions.
How do I add or remove a magazine subscription?
Patrons can add or remove a magazine subscription by following the steps on the How to subscribe to a magazine page. Libraries can order magazines by calling 1-855-655-2273. Please note libraries cannot add magazine subscriptions to their account online but they can cancel them online. For more information, see How to subscribe to a magazine.
How soon after the magazine is published will it be available through CELA?
New magazines will generally be available as soon as they are published.
Occasionally, new issues of a magazine will be delayed but you should see the latest magazine issue within 3 business days.
It is also possible that the magazine is no longer available to CELA patrons because the magazine has ceased publication or is no longer available to CELA patrons through our service provider. These titles appear under the Discontinued Magazines heading on our Magazines page.
Why do you no longer offer a particular magazine?
In most cases, the magazine has either ceased publication or is no longer offering access to CELA patrons through our service provider. We may occasionally cancel a magazine if it is not well used, in order to ensure we are making the best use of our limited resources.
How often do you update your list of magazines?
We check the list of available magazines on a monthly basis and make any necessary changes to available titles.
How long will you keep issues of each magazine?
Older issues (back issues) of magazines will remain available for 2 years in the case of monthly or less frequently published magazines. Issues of weekly magazines will be kept for 6 months.
How are pictures and graphic elements handled?
Our DAISY magazine service includes images for those who can use them. Publishers have not included captions, so we are unable to provide image descriptions. To avoid disrupting the flow for those using braille or audio only, we have elected not to indicate where there is an image.
What do I do when I am done with a magazine?
When you are finished with the magazine, please delete the files from your device or computer.
How can I provide feedback on the service and the magazines?
To offer feedback on CELA's new magazine service please complete our DAISY text magazines feedback form or email us at feedback@celalibrary.ca. We would love to hear how this new service is working for you, if there are enhancements you can suggest or if there are new magazine titles you would like us to add.
To provide feedback on the content of articles in the magazine, please visit or email the publisher directly.
My local library has an online Zinio magazine service. Is the CELA service the same as the one through my local library?
No. While there may be overlap in the titles we offer, the CELA service is entirely separate. CELA offers magazines in DAISY text, EPUB and Word, making them accessible for those with print disabilities. The accessible version of the Zinio collection is only available through CELA.
The Zinio app is not required to access CELA service nor is it able to read the accessible magazines offered through CELA.