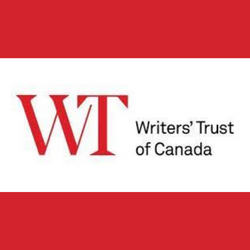 The Writer's Trust Awards were established in 1967 by five prominent Canadian writers — Margaret Atwood, Pierre Berton, Graeme Gibson, Margaret Laurence, and David Young. The goal was to support Canadian writers and nurture Canadian writing and stories. Over the years some of Canada's most innovative, important and successful writers have been recognized by the Writer's Trust. This year's gala, held November 2 was the first in person gala since 2019. CELA is pleased to have the nominated and winning titles in our collection. 
The Atwood Gibson Prize for fiction was named for co-founders of the Writer's Trust and comes with a $60,000 prize. This year the honour went to Nicholas Herring for his book Some Hellish about a hapless lobster fisher lost in an unexceptional life until he follows a hunch, cuts a hole in the living room floor and installs a hoist. The impact of that decision alters the course of everything in his life.
The Hilary Weston Writers' Trust Prize for Nonfiction recognizes excellence in the category of literary nonfiction, which includes essays, history, biography, memoir, commentary, and criticism. This year's winner is Dan Werb for his book The invisible siege: The rise of coronaviruses and the search for a cure. Werb traces the rising threat of the coronavirus family and the attempts by a small group of scientists who worked for decades to stop a looming viral pandemic.
Author francesca ekwuyasi was the recipient of this year's $10,000 Dayne Ogilvie Prize for LGBTQ2S+ Emerging Writers for her debut novel Butter Honey Pig Bread. The award is presented annually to a Canadian writer from the LGBTQ2S+ community for a debut book in any genre and this is the first year the Ogilvie Prize was awarded at the gala
Shani Mootoo took home the $25,000 Writers' Trust Engel Findley Award, which recognizes a mid-career writer in recognition of a remarkable body of work, and in anticipation of future contributions to Canadian literature. Mootoo's book Polar Vortex   was on the longlisted for the 2020 Scotiabank Giller Prize. Her most recent book, a collection of poetry called Cane Fire.
CELA is grateful for the opportunity to work with the Writer's Trust to ensure our users can access the nominated titles when they are announced and can participate in conversations about these books with their friends, colleagues and communities.
15335