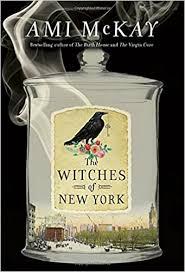 Whether its stories about witches, ghosts or run-of-the-mill evil beings that haunt you, we've got just the right Halloween read. But if these are not enough you can always check out our ghost and horror stories   category for many, many more. 
Witches of New York  by Ami McKay
In 1880, Adelaide Thom opens a tea shop with another young woman who feels it's finally safe enough to describe herself as a witch, Eleanor St. Clair. Together they cater to Manhattan's high society ladies, specializing in cures, palmistry and potions - and in guarding the secrets of their clients. Then Beatrice Dunn arrives seeking employment. While Beatrice soon becomes indispensable, she sees things no one else can see, hears voices no one else can hear, and objects appear out of thin air for her. Has she been touched by magic or is she simply losing her mind? Eleanor wants to tread lightly and respect the magic, but Adelaide sees a business opportunity. Amidst the witches' tug-of-war over what's best for her, Beatrice disappears. As Adelaide and Eleanor begin the search for Beatrice, they ' re confronted by accusations and specters from their own pasts. This book is part of the Witches series which includes the Virgin Cure and Half Spent was the Night .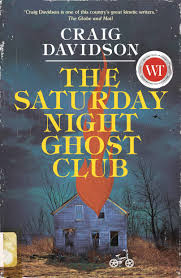 The Saturday night ghost club by Craig Davidson.
A charismatic cast of misfits, losers, and bruisers animate this novel set in Niagara Falls, aka Cataract City - a slightly seedy, slightly magical, slightly haunted place, where seemingly ordinary lives are steeped in secrets, desires, troubled histories, and the occasional splash of mayhem. A bittersweet coming-of-age story about a small group of kids who, under the leadership of an eccentric uncle, spend one summer investigating the validity of local ghost stories and macabre urban myths - in almost every instance getting in way over their heads. Davidson draws us into his gritty world, reminding us that life's strange intensity and occasional magic is all around us. 2018.
The Year of the Witching by Alexis Henderson
A young woman living in a rigid, puritanical society discovers dark powers within herself in this stunning, feminist fantasy debut. In the lands of Bethel, where the Prophet's word is law, Immanuelle Moore's very existence is blasphemy. Her mother & 's union with an outsider of a different race cast her once-proud family into disgrace, so Immanuelle does her best to worship the Father, follow Holy Protocol, and lead a life of submission, devotion, and absolute conformity, like all the other women in the settlement. But a mishap lures her into the forbidden Darkwood surrounding Bethel, where the first prophet once chased and killed four powerful witches.Their spirits are still lurking there, and they bestow a gift on Immanuelle: the journal of her dead mother, who Immanuelle is shocked to learn once sought sanctuary in the wood. Fascinated by the secrets in the diary, Immanuelle finds herself struggling to understand how her mother could have consorted with the witches. But when she begins to learn grim truths about the Church and its history, she realizes the true threat to Bethel is its own darkness. And she starts to understand that if Bethel is to change, it must begin with her.
A noise downstairs: a novel by Linwood Barclay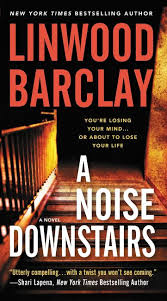 College professor Paul Davis is a normal guy with a normal life. Until, driving along a deserted road late one night, he surprises a murderer disposing of a couple of bodies. After nearly losing his own life in that encounter, he finds himself battling PTSD, depression, and severe problems at work. His wife, Charlotte, desperate to cheer him up, brings home a vintage typewriter - complete with ink ribbons and heavy round keys - to encourage him to get started on that novel he's always intended to write.
However, the typewriter itself is a problem. Paul swears it's possessed and types by itself at night. But only Paul can hear the noise coming from downstairs; Charlotte doesn't hear a thing. And she worries he's going off the rails.
Paul believes the typewriter is somehow connected to the murderer he discovered nearly a year ago. The killer had made his victims type apologies to him before ending their lives. Has another sick twist of fate entwined his life with the killer - could this be the same machine? Increasingly tormented but determined to discover the truth and confront his nightmare, Paul begins investigating the deaths himself.
But that may not be the best thing to do. Maybe Paul should just take the typewriter back to where his wife found it. Maybe he should stop asking questions and simply walk away while he can ...
15335