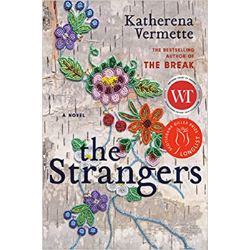 The Government of Canada has designated June 21 as National Indigenous Peoples Day, and it's an excellent opportunity to to learn more about the rich and diverse cultures, voices, experiences and histories of First Nations, Inuit and Métis peoples.
We have compiled a list of titles by Indigenous authors for adults, kids and teens and have featured them below. For additional titles browse our Indigenous fiction and Indigenous peoples in Canada fiction categories. 
Sufferance: A novel by Thomas King
Jeremiah Camp, a.k.a. the Forecaster, can look into the heart of humanity and see the patterns that create opportunities and profits for the rich and powerful. Problem is, Camp has looked one too many times, has seen what he hadn't expected to see and has come away from the abyss with no hope for himself or for the future. So Jeremiah does what any intelligent, sensitive person would do. He runs away. Goes into hiding in a small town, at an old residential school on an even smaller Indian reserve, with no phone, no Internet, no television. With the windows shut, the door locked, the mailbox removed to discourage any connection with the world, he feels safe at last. Except nobody told the locals that they were to leave Jeremiah alone. And then his past comes calling. Ash Locken, head of the Locken Group, the multinational consortium that Jeremiah has fled, arrives on his doorstep with a simple proposition. She wants our hero to formulate one more forecast, and she's not about to take no for an answer. Before he left the Locken empire, Jeremiah had created a list of twelve names, every one a billionaire. The problem is, the people on the list are dying at an alarming and unnatural rate. And Ash Locken wants to know why. A sly and satirical look at the fractures in modern existence, Sufferance is a bold and provocative novel about the social and political consequences of the inequality created by privilege and power—and what we might do about it
The Strangers by Katherena Vermette
Longlisted for the 2021 Scotiabank Giller Prize From the bestselling author of The Break comes a staggering intergenerational saga that explores how connected we are, even when we're no longer together—even when we're forced apart.Cedar has nearly forgotten what her family looks like. Phoenix has nearly forgotten what freedom feels like. And Elsie has nearly given up hope. Nearly.After time spent in foster homes, Cedar goes to live with her estranged father. Although she grapples with the pain of being separated from her mother, Elsie, and sister, Phoenix, she's hoping for a new chapter in her life, only to find herself once again in a strange house surrounded by strangers. From a youth detention centre, Phoenix gives birth to a baby she'll never get to raise and tries to forgive herself for all the harm she's caused (while wondering if she even should). Elsie, struggling with addiction and determined to turn her life around, is buoyed by the idea of being reunited with her daughters and strives to be someone they can depend on, unlike her own distant mother. These are the Strangers, each haunted in her own way. Between flickering moments of warmth and support, the women diverge and reconnect, fighting to survive in a fractured system that pretends to offer success but expects them to fail. Facing the distinct blade of racism from those they trusted most, they urge one another to move through the darkness, all the while wondering if they'll ever emerge safely on the other side. A breathtaking companion to her bestselling debut The Break, Vermette's The Strangers brings readers into the dynamic world of the Stranger family, the strength of their bond, the shared pain in their past, and the light that beckons from the horizon. This is a searing exploration of race, class, inherited trauma, and matrilineal bonds that—despite everything—refuse to be broken.
Half-Bads in White Regalia: A Memoir by Cody Caetano
A family tries to learn from the mistakes of past generations in this whirlwind memoir from a wholly original new voice.The Caetanos move into a doomed house in the highway village of Happyland before an inevitable divorce pulls Cody's parents in separate directions. His mom, Mindimooye, having discovered her Anishinaabe birth family and Sixties Scoop origin story, embarks on a series of fraught relationships and fresh starts. His dad, O Touro, a Portuguese immigrant and drifter, falls back into "big do, little think" behaviour, despite his best intentions. Left alone at the house in Happyland, Cody and his siblings must fend for themselves, even as the pipes burst and the lights go out. His protective big sister, Kris, finds inventive ways to put food on the table, and his stoic big brother, Julian, facilitates his regular escapes into the world of video games. As life yanks them from one temporary solution to the next, they steal moments of joy and resist buckling under "baddie" temptations aplenty. Capturing the chaos and wonder of a precarious childhood, Cody Caetano delivers a fever dream coming-of-age garnished with a slang all his own. Half-Bads in White Regalia is an unforgettable debut that unspools a tangled family history with warmth, humour, and deep generosity.
Empire of Wild by Cherie Dimaline
Broken-hearted Joan has been searching for her husband, Victor, for almost a year--ever since he went missing on the night they had their first serious argument. One hung-over morning in a Walmart parking lot in a little town near Georgian Bay, she is drawn to a revival tent where the local Métis have been flocking to hear a charismatic preacher. By the time she staggers into the tent the service is over, but as she is about to leave, she hears an unmistakable voice.She turns, and there is Victor. Only he insists he is not Victor, but the Reverend Eugene Wolff, on a mission to bring his people to Jesus. And he doesn't seem to be faking: there isn't even a flicker of recognition in his eyes.With only two allies--her odd, Johnny-Cash-loving, 12-year-old nephew Zeus, and Ajean, a foul-mouthed euchre shark with deep knowledge of the old ways--Joan sets out to remind the Reverend Wolff of who he really is. If he really is Victor, his life, and the life of everyone she loves, depends upon her success.Inspired by the traditional Métis story of the Rogarou--a werewolf-like creature that haunts the roads and woods of Métis communities--Cherie Dimaline has created a propulsive, stunning and sensuous novel.
Halfbreed by Maria Campbell
A new, fully restored edition of the essential Canadian classic. An unflinchingly honest memoir of her experience as a Métis woman in Canada, Maria Campbell's Halfbreed depicts the realities that she endured and, above all, overcame. Maria was born in Northern Saskatchewan, her father the grandson of a Scottish businessman and Métis woman--a niece of Gabriel Dumont whose family fought alongside Riel and Dumont in the 1885 Rebellion; her mother the daughter of a Cree woman and French-American man. This extraordinary account, originally published in 1973, bravely explores the poverty, oppression, alcoholism, addiction, and tragedy Maria endured throughout her childhood and into her early adult life, underscored by living in the margins of a country pervaded by hatred, discrimination, and mistrust. Laced with spare moments of love and joy, this is a memoir of family ties and finding an identity in a heritage that is neither wholly Indigenous or Anglo; of strength and resilience; of indominatable spirit.This edition of Halfbreed includes a new introduction written by Indigenous (Métis) scholar Dr. Kim Anderson detailing the extraordinary work that Maria has been doing since its original publication 46 years ago, and an afterword by the author looking at what has changed, and also what has not, for Indigenous people in Canada today. Restored are the recently discovered missing pages from the original text of this groundbreaking and significant work.
Split tooth by Tanya Tagaq
A girl grows up in Nunavut in the 1970s. She knows joy, and friendship, and parents' love. She knows boredom, and listlessness, and bullying. She knows the tedium of the everyday world, and the raw, amoral power of the ice and sky, the seductive energy of the animal world. She knows the ravages of alcohol, and violence at the hands of those she should be able to trust. She sees the spirits that surround her, and the immense power that dwarfs all of us. When she becomes pregnant, she must navigate all this. Veering back and forth between the grittiest features of a small arctic town, the electrifying proximity of the world of animals, and ravishing world of myth, Tanya Tagaq explores a world where the distinctions between good and evil, animal and human, victim and transgressor, real and imagined lose their meaning, but the guiding power of love remains. Haunting, brooding, exhilarating, and tender all at once, Tagaq moves effortlessly between fiction and memoir, myth and reality, poetry and prose, and conjures a world and a heroine readers will never forget. 
Books for Kids and Teens 
Hockey with Dad by Willie Sellars, Nelson White
The highly anticipated follow-up to the award-winning Dipnetting with Dad, in Hockey with Dad, Little Brother's adventures continue as he grows and learns about the importance of hockey to his Secwépemc community.
Sweetest Kulu by Celina Kalluk, Alexandria Neonakis
This bedtime poem, written by acclaimed Inuit throat singer Celina Kalluk, describes the gifts given to a newborn baby by all the animals of the Arctic. Lyrically and tenderly told by a mother speaking to her own little "Kulu," an Inuktitut term of endearment often bestowed upon babies and young children, this book is infused with the traditional Inuit values of love and respect for the land and its animal inhabitants. Grades K-3. 
Forever birchwood: A novel by Danielle Daniel
The middle-grade debut of star picture-book author and illustrator Danielle Daniel Adventurous, trail-blazing Wolf lives in a northern mining town  and spends her days exploring the mountains and wilderness with her three best friends Penny, Ann and Brandi. The girls' secret refuge is their tree-house hideaway, Birchwood, Wolf's favourite place on earth. When her beloved grandmother tells her that she is the great-granddaughter of a tree talker, Wolf knows that she is destined to protect the birch trees and wildlife that surround her. But Wolf's mother doesn't understand this connection at all. Not only is she reluctant to engage with their family's Indigenous roots, she seems suspiciously on the wrong side of the environmental protection efforts in their hometown. To make matters worse, she's just started dating an annoying new boyfriend named Roger, whose motives—and construction company—seem equally suspect. As summer arrives, so do bigger problems. Wolf and her friends discover orange plastic bands wrapped around the trees near their cherished hangout spot, and their once stable friendship seems on the verge of unravelling. Birchwood has given them so much—can they even stay together long enough to save this special place? With gorgeous yet understated language, Danielle Daniel beautifully captures an urgent and aching time in a young person's life. To read this astonishing middle-grade debut is to have your heart broken and then tenderly mended
Those who run in the sky by Kelly Ward, Neil Christopher, Aviaq Johnston 
After a strange and violent blizzard leaves young shaman-in-training Pitu stranded on the sea ice--without his dog team or any weapons to defend himself--he soon realizes that he is no longer in the word that he once knew. The storm has carried him into the world of the spirits, a world populated by terrifying creatures. As he tries to find his way back home, Pitu is plagued by black wolves constantly stalking him, water-dwelling creatures that want to snatch him and pull him into the frigid ocean through an ice crack, as well as beings less frightening, but equally as incredible, such as a lone giant who can carry Pitu in the palm of her hand and keeps caribou and polar bears as pets. After stumbling upon a fellow shaman who has been trapped in the spirit world for many years, Pitu must master all of his shamanic powers to make his way back to the world of the living, to his family and to the girl that he loves. For junior and senior high readers. 2017.
15335