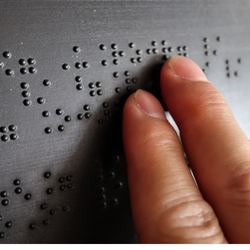 Every few weeks, as part of CELA's commitment to learning, our staff meeting includes a deep dive into a topic relevant to our work. Often one of our colleagues will present something they have learned through a conference or webinar, or share a skill they have been honing as part of their job. Recently, Ioana Gandrabur did a talk for our staff on the history and importance of braille.
Ioana is one of CELA's Peer Trainers, a professional, classically trained musician, a tech enthusiast, and an avid braille reader. Her presentation to staff was interesting and enlightening and we asked Ioana to share some of what she presented as a blog post.
CELA: As a braille reader can you talk about what braille means to you?
Ioana: Accessing the world through braille is like seeing after being born blind. Louis Braille said, "Braille is knowledge and knowledge is power". As a professional musician, I am so grateful that the braille code also helps me learn, explore and play music. 

CELA: Can you tell us some of what you learned when you researched the history of braille, and of education for people who are blind?
Ioana: The discussion of education for people who are blind started well before Louis Braille was born. Denis Diderot who was born in 1712, was a French philosopher and the first person to be credited for view that blind people should be educated, not cured.
Valentin Haüy founded the first school for the blind called the Institute for Blind Youth in Paris in 1785, 11 years after Diderot died and he credited Diderot as his inspiration Haüy had met with Maria Theresia von Paradis, a blind prodigy musician and was fascinated with her method of reading and writing using cardboard printing letters and a manual printing press gifted to her. Not too long after their meeting, Haüy witnessed a group of people form a hospice for the blind being mocked during a religious street festival in Paris and he committed to creating a school where blind students could learn to read and develop skills to support themselves. Based on the success of Haüy's students and methods, the school received encouragement from the French Academy of Sciences eventually receiving support from Louis XVI. In 1819, Louis Braille entered this school. Braille had lost his sight at the age of 3 after an accident with an awl caused infections in both his eyes. Until he went to the Institute, he had been educated at his local school.
In 1815, about the same time as Braille started at his local school, Charles Barbier published a book on shorthand. In it he argued that conventional writing could be a barrier to universal literacy because it takes too long to learn, and at that time, people who must earn their living, for example farmers, artisans cannot devote the necessary time to education. Barbier also expressed concern about the barriers to literacy faced by people with visual or hearing impairments. His book recommended a new code, based on a 5 x 5 grid. Barbier also invented three tools to make it possible to indent the dots into paper: a grooved board to receive the impressions, the punch itself, and a guide to ensure that the dots lined up.
CELA: In your research did you learn if Louis Braille ever met Barbier? Is that where Braille got his inspiration for today's braille code?
Ioana: We know that they were aware of each other and that they did meet later in life when Braille was an adult. Louis Braille was attending the Institute when Barbier's method was introduced there in 1821 so it is quite likely that Barbier's work had some influence on Braille. Louis Braille's system of code was more flexible than Barbier's and addressed some of the shortcomings. For example, in Barbier's system the cell was too big and Braille made it smaller so it easily fits under one finger.
Barbier did not have symbols for punctuation or numbers and there was no distinction between capital letters and lowercase letters and this was addressed in Braille's system. Braille continued to refine his code and added musical notation to the code in 1834 which also differentiated it from Barbier's system, much to the delight of musicians.
CELA: Has the braille code changed in other ways over time since Louis Braille's initial work?  
Ioana: Yes, there have been refinements. Braille was officially adopted in France in 1854. At that time there were some variations with different countries corelating letter frequency with number of dots. In 1878 the first international congress adopted Braille's original version and then in 1917 the US adopted also.
By 1932 the code was further unified internationally. Now braille code is standardized although work on adjustments is on-going It can now be used with most languages and codes for scientific content and computer programming are constantly evolving.
CELA: What has been the impact of Braille's work?
Ioana: Hellen Keller said that he was as important for blind people as Guttenberg was for literacy.
We know that literacy is crucial to academic and employment opportunities. Some of the sources I used cited some interesting studies. A Louisiana Tech university study found 44% Braille reading participants were unemployed vs 77% of non-Braille readers. Another study showed that 90% of Braille readers employed vs 30% of non-Braille readers. I would love to see some follow up studies to see how things may have changed.
CELA: Can you share how technology has continued to make braille more accessible for both reading and writing.
Ioana: Technology is an amazing gift to the blind community.
In 1951 the Perkins Braille writer was officially launched. It took inventor David Abraham 10 years to perfect it. The process was interrupted by war and other challenges, but that piece of technology allowed blind people to write braille efficiently and accurately, facilitating new ways to communicate, to learn, and to express themselves.
The 1950s and 60s saw the development of Braille embossers but progress was slow and the machines were expensive but they moved us towards more accessibility. MIT built the BrailleEmboss which was released in the late 1960s and later Duxbury developed DOTSYS (the DOT SYStem) software which had ability to translate teletypesetter (TTS) tapes into braille.
In 1991 the Mountbatten Brailler was introduced and then 2 decades later in 2011 we saw the first smart Brailler with text to speech and the capacity to store text digitally. As accessibility features become more integrated into mainstream technology, it makes it easier for those who are blind to access information in ways we might never have dreamed of a few decades ago. For example, we can now type in braille on the iPhone and read most text displayed on a screen using a braille display.
CELA: Ioana thanks so much for sharing some of the history of braille with us. Do you have any last bits of wisdom to share?  
Ioana: I want to say that people are just different in how they experience the world and that it is important to remember that for many there is no need to "cure" but rather just to help them in the way the experience the world.
I believe braille is crucial to literacy, but the most recent data shows only 10% of blind people in US read Braille. There are a few reasons for that, I think.
One is that there is a tendency to minimize importance of things we don't understand.
There is also the preconception that braille is too hard for older person to learn, which I disagree with.
There may be an element of convenience at play here as well. Because there are other technologies that integrate well with technology sighted people use, like Text to Speech, it is easier for sighted people to teach and use those technologies rather than teaching braille to people who are blind. And Text to Speech stands out less now when everyone is digital which has both pros and cons.
I think there is real value in being able to read and write braille. Reading braille, rather than listening to audio, allows the reader to create all elements of the story themselves, rather than hearing it through the filter of a narrator. And writing braille is useful in a number of ways, for example taking notes while listening to information, creating notes for us, even journaling to record our thoughts.
Ultimately, I think that the choice between Braille and audio should not be dictated by circumstances but by preference and I would encourage folks to learn and practice braille as one more tool in their toolbox.
Ioana shared a few of the books she used in her research in case readers would like to explore more. 
There Plant Eyes By M. Leona Godin
Braille into the next millennium By Judith M Dixon

Thank you to Ioana for sharing her research with the CELA team and with our blog readers. 
15448