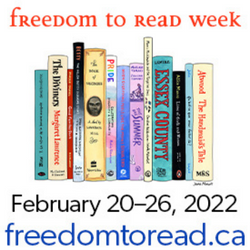 Any book worth banning is a book worth reading.  ~ Isaac Asimov
In January of this year, a school board in Tennessee voted to ban the Art Spiegelman's graphic novel Maus which details his parents' experiences in Nazi concentration camps during the Holocaust. Every February, the Book and Periodical Council hosts Freedom to Read Week, which is an opportunity to remind ourselves that we cannot take our freedom to read for granted. While the banning of Maus happened south of the boarder, Canada, and Canadian authors are not immune to book banning. We've gathered a few notable books, written by Canadian authors, which have been banned in the past.  To find a more complete list visit FreedomToRead.ca
The Handmaid's Tale: Margaret Atwood's popular dystopian novel The Handmaid's Tale explores a broad range of issues relating to power, gender and religious politics.
The Wars by Timothy Findley: In 1915, Robert Ross, a young Canadian, enlists in the army as an officer. His experiences in a training camp, in the trenches in Europe, and with death are vividly told. Some strong language and explicit descriptions of sex. Winner of the 1977 Governor General's Award for Fiction. 
Snow falling on cedars by David Guterson: As a Japanese-American fisherman stands trial for murder on an island in Puget Sound, snow blankets the countryside. The whiteness covers the courthouse, but it cannot conceal the memories at work inside: the internment of Japanese Americans during World War II, an unrequited love, and the ghosts of racism that still haunt the islanders. First novels rarely attract as much attention as Snow Falling on Cedars.
Lives of Girls and Women by Alice Munro: Beautifully crafted and lovingly recalled, these episodes reflect a young girl's life in a small Ontario town during the late 1940's. 1971.
Foxfire: confessions of a girl gang by Joyce Carol Oates: Middle-aged Maddy Wirtz transcribes her journals from the 1950s when she belonged to a female gang called Foxfire. The zealous  leader of the upstate-New York teenagers is Legs Sadovsky, who empowers the girls by exacting revenge against domineering, lecherous males. But when they make money from these lessons, their unity is threatened. 
The apprenticeship of Duddy Kravitz by Mordecai Richler:  In Richler's earliest comic novel, irrepressible Duddy lives by his wits, and with a little help from Lady Luck, usually gets what he wants.
The diviners by Margaret Laurence: The troubled journey of a prairie novelist from the social cruelty of her village to a modicum of personal serenity and professional success. Strong language and explicit descriptions of sex. Winner of the 1974 Governor General's Award for Fiction.
Thomas's Snowsuit by Robert Munsch: Thomas refuses to wear his new snowsuit despite the pleas of his mother, his teacher, and even his principal. Find this story in Munschworks: the first Munsch collection.
Underground To Canada by Barbara Smucker: There's a place the slaves been whisperin' around called Canada. The law don't allow no slavery there. They say you follow the North Star, and when you step onto this land you are free.  Taken away from her mother by a ruthless slave trader, all Julilly has left is the dream of freedom. Every day that she spends huddled in the slaver trader's wagon travelling south or working on the brutal new plantation, she thinks about the land where it is possible to be free, a land she and her friend Liza may reach someday. So when workers from the Underground Railroad offer to help the two girls escape, they are ready. But the slave catchers and their dogs will soon be after them .
Hold fast by Kevin Major: Suddenly orphaned, 14-year-old Michael is forced to leave Newfoundland and face life in new, often unfriendly, surroundings. Some strong language.  Winner of the 1978 Canada Council Award. For junior and senior high readers.
15335