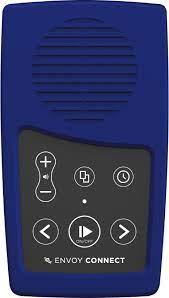 Thanks to a grant received from the Government of Canada, CELA undertook the Expanded Delivery Options Project in 2021-2022. The goal of the pilot project was to test three new accessible reading technologies to deliver audiobooks for persons with print disabilities. A key component of the pilot project included offering training and support on the devices and on accessible reading generally.  
Three different technologies were included in the pilot:  
E

n

voy Connect, a low-cost small MP3 player, 

 

A prototype of a DAISY player developed by

Humanware

 

A smart speaker application

 
More than 500 CELA users participated in the project and offered valuable feedback regarding the usability and features of these new and emerging technologies. To carry out the project, CELA hired a Project Coordinator and Peer Trainers to support participants throughout the pilot. 
Results

 
Envoy

Connect

 
The Envoy Connect portable MP3 player was distributed to approximately 400 participants free-of-charge. The player was offered to participants with pre-loaded books, or the user had the option of connecting it to a computer to download books from their CELA bookshelf. Although not offering Daisy functions such as extensive book navigation and variable speed playback, the player was well received by a majority of users. Based on feedback received from participants, CELA will offer this audiobook delivery option for interested users in the near future.  
Humanware

DAISY prototype

 
The Humanware prototype is a fully featured DAISY player which uses a reloadable digital storage option that can be loaded with multiple books. A small number of the prototype, which is comparable to the Stratus, were made available to CELA for this project. Unlike receiving books on CD, participants were able to receive multiple books at a time. Feedback from pilot participants, along with feedback from the CELA team was forwarded to the Humanware developers. This player is still in development, and updates about future availability will be provided by Humanware.  
Smart Speakers

 
One hundred and fifty patrons were asked to test "smart speaker" technology as part of this pilot. Participants evaluated either a Google or Amazon application, known as a skill. The skills were developed specifically for CELA by our partner EDR Lab. Participants were able to use their preferred (assigned?) skill to search for books by author, title, genre, or theme, to look and listen to books from their bookshelf and navigate within a book. In order to facilitate the pilot, the skills offered a limited selection of titles, features and navigation options.  
At the time of this writing, the Amazon CELA skill is awaiting final certification by Amazon and after further testing it will become available to all CELA patrons wishing to use it. 
The Google skill is currently available. However, Google recently announced it is ending support for the technology used to develop our application. CELA is awaiting clarification from Google which will determine whether CELA will be able to continue to develop and offer the Google skill. 
Training

 
Over the duration of the pilot, CELA's Peer Trainers offered direct support to participants to help them become proficient with these new technologies. Feedback and questions were documented to aid in the development of future training materials. In addition, the Peer Trainers offered learning opportunities to CELA patrons and others who were interested in learning more, including the webinar about Accessible Reading in the Digital Age which is available on CELA's YouTube channel.   
The Peer Trainer role will continue for the foreseeable future, allowing patrons to obtain additional guidance and support. The Peer Trainers will continue to offer training on diverse topics, as well as taking on some new projects, and those will be announced through Open Book and email communications.  
Next steps

 
We are working on making the Envoy Connect and Smart Speaker services ready for more patrons to use and will share details when they are available. We continue to look for opportunities to look at more ways of improving our services and offering patrons new technologies for accessible reading, including braille.  
Conclusion

 
As technology evolves, it is crucial for CELA to continue to adapt and prepare for our users' needs and preferences, and to support equitable access to reading materials for people with print disabilities. We were pleased that the Expanded Delivery Options Pilot project included three new and emerging technologies for accessing audiobooks. We recognize that no single technology or device will meet the needs of all our users, and we are committed to offering our users a variety of choices of ways to access reading materials. The feedback provided on these various devices will help us plan for updates to our systems and services for both the short and longer term.  
We would like to thank all pilot project participants for their interest, feedback and valuable input through discussions, webinars, and surveys.  
15317