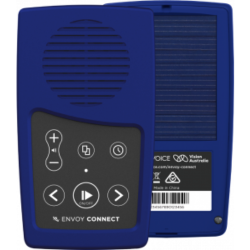 In late May, the Centre for Equitable Library Access launched its new Envoy Connect service. The Envoy Connect is an easy-to-use, portable, and very affordable audiobook player which holds up to 8 GB of books. The device offers users flexibility, allowing them to reload their books independently, or to send the device to CELA to be reloaded. For readers who require an affordable or low tech device, or those who want a small inexpensive dedicated audiobook reader, the Envoy Connect offers an excellent new option.
We took the opportunity to ask Charmaine Co, a CELA Peer Trainer who worked on supporting the launch of Envoy Connect, what she thinks about the Envoy Connect. Charmaine, who is definitely an Envoy Connect champion, ordered her own device as soon as it became available on the SmartLife website.
CELA: Tell us why you wanted to purchase an Envoy Connect.
Charmaine: My decision to purchase the player was an absolute no-brainer. I basically fell in love with it as soon as I received one for testing purposes and began to learn how to use it. To me, it was small and portable, easy-to-use, and nothing like any other audiobook player out there on the market today.
CELA: How have you found using it so far?
Charmaine: My experience with it has been very smooth. It hasn't given me any issues and I am really enjoying being able to do my personal reading on it, wherever I happen to be. I particularly love the ability to charge it using solar energy [from the sun] as it eliminates the need to carry around any chargers or batteries when traveling.
CELA: How was the process of buying and setting up the Envoy Connect so you could use it? Charmaine: My purchase and setup process went quite smoothly as well. The player shipped right away, and I received it in less than five business days. I enjoyed setting it up independently, without any kind of sighted assistance, as though I were setting it up for the first time-even though I'd already had previous experience setting up the player I'd used for testing.
CELA: Who might you recommend the Envoy Connect to? Is there a particular type of user you think might be well suited to using this new device?
Charmaine: I think that anyone who enjoys listening to audiobooks would really enjoy this player. It's an incredible device that's universally accessible to everyone, especially those who, like me, like to have audiobook players that are self-contained as opposed to using a smartphone or tablet to listen to them. That way, you can truly focus on listening to the content and not risk being distracted by other apps or functionalities that exist on other devices.
CELA: Are you using CELA Connect to reload the books? How is that experience?
Charmaine: Yes, I am definitely using CELA Connect to manage books on my player. It's an absolutely beautiful software that makes the process of book management effortless, and fun! I've tested it with all of the most popular screen reading technologies [for Windows] and it works seamlessly with all of them. This makes the program very accessible, and I predict that patrons will enjoy being able to load books onto their player, anytime, from anywhere!
CELA: Is there anything you would tell someone who is considering the Envoy Connect but isn't sure it is for them?
Charmaine: I would tell them to look and think no further. Anyone who is even remotely thinking about acquiring an Envoy Connect should absolutely go for it without question. Considering its' affordability and size, it certainly has a lot to offer!
Thanks Charmaine!
To learn more about the Envoy Connect read our blog and browse the information available in our documentation. If you have questions, the best place to start is our FAQs and our User Guides, both of which are available in multiple formats.
15317