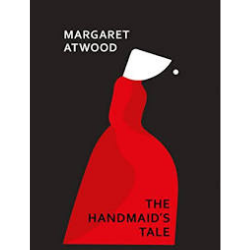 Conventional wisdom seems to be that we should read the book before watching the TV or film adaptation.  Reading the book first gives us the chance to imagine the characters, and the setting without the influence of the actors, directors and script writers. But there's another school of thought that suggests watching the adaptation first is acceptable (although as librarians we think this is just this side of scandalous). According to an article in Book Bub, watching first has distinct benefits including avoiding the temptation to shout "But that's not how it happens in the book!" and having to avoid spoilers or see the movie alone because all your friends have already seen it while you are still reading the book.
There is another upside though to watching a movie or TV adaptation first. It might introduce you to some new-to-you books and authors you might not have discovered otherwise. Often TV shows or movies prompt new interest in older books, especially when the shows are well done. This week on the blog we are congratulating the Emmy nominees, especially those whose shows are based on books, and thank them for introducing new readers to some great books. Read more about the shows and the books that inspired them below. 
Bridgerton is based on the New York Times Bestselling series by Julia Quinn and follows the Regency era story of Daphne Bridgerton as she tries to secure a husband to please her friends and powerful family. Everyone likes Daphne for her kindness and wit but she is unwilling to play romantic games and so a suitor seems elusive, until Simon Bassett returns home and makes a pact with Daphne so they can both get what they want. This beautifully shot series became the most watched series on Netflix in its first season and was nominated for Outstanding Drama Series as well as Outstanding Lead Actor in a Drama Series. The first season stayed pretty true to the Duke and I. Perhaps if you want a sneak peak for next season delve into The Viscount Who Loved Me. The full series of Bridgerton books along with other Julia Quinn books are available through CELA.
Unsurprisingly, the Handmaid's Tale, based on Margaret Atwood's novel (1985) has garnered numerous award nominations for its actors as well as one for Outstanding Drama Series.  This dystopian fiction reveals a world where fertile women become handmaids and are required to bear children for the ruling class of the newly empowered theocracy, Gilead. Unrelated to the show, Atwood also wrote a follow-up to the Handmaid's Tale called The Testaments, which was released in 2020.
The Lovecraft Country series, based on a novel by the same name by Matt Ruff, is about a young Black man who travels across the segregated 1950s United States in search of his missing father, learning of dark secrets plaguing a town on which famous horror writer H. P. Lovecraft supposedly based the location of many of his fictional tales. We always love fiction books which incorporate stories about a real life author. Lovecraft Country has been nominated for Outstanding Drama series and its lead Jonathan Majors has been nominated for Outstanding Actor. 
There are plenty of Mandalorian fans in my household who would love to see this Disney Star Wars spin off win Outstanding Drama Series. The TV series is set after the fall of the Empire and before the emergence of the First Order and follows the travails of a lone gunfighter in the outer reaches of the galaxy, far from the authority of the New Republic. K.W. Jeter's series begins with the Mandalorian's Armour and traces a similar story line.
The Queen's Gambit, the highly praised Netflix miniseries, has already won numerous awards and Anya Taylor-Joy, the lead actress, has already won a Golden Globe, Screen Actor's Guild and Critic's Choice awards for her portrayal of Beth, who at the age of 8 learns to play chess from the janitor in the orphanage where she lives. She discovers she is a prodigy, competing in the US Open Championship, and by eighteen she is the US champion—and Russia awaits. Fast-paced and elegantly written by Walter Tevis, The Queen's Gambit is a thriller masquerading as a chess novel—one that's sure to keep you on the edge of your seat.
John Lithgow has been nominated for Outstand Support Actor in a Drama series for his role as Elias Birchard "E.B." Jonathan in Perry Mason. The TV series begins with the first of Erle Stanley Gardner's series, the Case of the Velvet Claws. with wealthy Eva Belter and her lover needing Perry Mason's help to pay off a blackmailing columnist. When Belter's husband is murdered, Perry is astonished to discover that his classy client has implicated him. Some strong language. There are many Perry Mason titles in our collection to read. 
Enjoy theses books and the shows they inspired!
15335