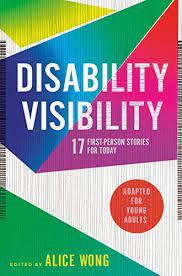 In honour of International Day of People with Disabilities.We've curated a collection of books for adults, kids and teens, from authors in the disability community. Celebrated on December 3rd the day gives us a chance to learn about the experiences and contributions of people with disabilities and reflect on the work our society and culture still needs to do to become fully inclusive and accessible. For more works by authors with disabilities you can use our Browse By Category function for Disabilities Fiction, Blind and visually impaired fiction and Disabilities Nonfiction.
Books for Adults 
Artificial divide edited Robert Kingett
This #OwnVoices anthology features fiction by Blind and visually impaired authors showing readers how they thrive, hurt, get revenge, outsmart bullies, or go on epic adventures. Artificial Divide is an own-voices story collection that captures the many layers of Blindness and, for once, puts visually impaired protagonists in the driver's seat, letting us glimpse their lives.
Sitting pretty: The view from my ordinary, resilient, disabled body By Rebekah Taussig
A memoir-in-essays from disability advocate and creator of the Instagram account @sitting_pretty Rebekah Taussig, processing a lifetime of memories to paint a beautiful, nuanced portrait of a body that looks and moves differently than most. Growing up as a paralyzed girl during the 90s and early 2000s, Rebekah Taussig only saw disability depicted as something monstrous (The Hunchback of Notre Dame), inspirational (Helen Keller), or angelic (Forrest Gump). None of this felt right; and as she got older, she longed for more stories that allowed disability to be complex and ordinary, uncomfortable and fine, painful and fulfilling.
Deaf utopia: A memoir ́and a love letter to a way of life By Nyle DiMarco
A heartfelt and inspiring memoir and celebration of Deaf culture by Nyle DiMarco, actor, producer, two-time reality show winner, and cultural icon of the international Deaf community Before becoming the actor, producer, advocate, and model. Through his stories and those of his Deaf brothers, parents, and grandparents, Nyle opens many windows into the Deaf experience. Deaf Utopia is intimate, suspenseful, hilarious, eye-opening, and smart—both a memoir and a celebration of what makes Deaf culture unique and beautiful. Deaf Utopia is more than a memoir, it is a cultural anthem—a proud and defiant song of Deaf culture and a love letter to American Sign Language, Nyle's primary language. 
Books for kids and teens
Rolling warrior: The incredible, sometimes awkward, true story of a rebel girl on wheels who helped spark a revolution
By Judith Heumann
"If I didn't fight, who would?" Judy Heumann was only 5 years old when she was first denied her right to attend school. Paralyzed from polio and raised by her Holocaust-surviving parents in New York City, Judy had a drive for equality that was instilled early in life. In this young readers' edition of her acclaimed memoir, Being Heumann , Judy shares her journey of battling for equal access in an unequal world—from fighting to attend grade school after being described as a "fire hazard" because of her wheelchair, to suing the New York City school system for denying her a teacher's license because of her disability. Judy went on to lead 150 disabled people in the longest sit-in protest in US history at the San Francisco Federal Building.
Disability visibility (adapted for young adults): First-person stories for today By Alice Wong
The eye-opening essays in Disability Visibility , all written by disabled people, offer keen insight into the complex and rich disability experience, examining life's ableism and inequality, its challenges and losses, and celebrating its wisdom, passion, and joy. The accounts in this collection, adapted for audio, ask readers to think about disabled people not as individuals who need to be &"fixed,&" but as members of a community with its own history, culture, and movements. 
Rescue and Jessica: a life-changing friendship By Patrick Downes, Jessica Kensky
Rescue thought he'd grow up to be a Seeing Eye dog -- it's the family business, after all. When he gets the news that he's better suited to being a service dog, he's worried that he's not up to the task. Then he meets Jessica, a girl whose life is turning out differently than the way she'd imagined it, too. Now Jessica needs Rescue by her side to help her accomplish everyday tasks. And it turns out that Rescue can help Jessica see after all: a way forward, together, one step at a time. An endnote from the authors tells more about the training and extraordinary abilities of service dogs, particularly their real-life best friend and black lab, Rescue. Grades K-3.

The chance to fly By Ali Stroker
A heartfelt middle-grade novel about a theater-loving girl who uses a wheelchair for mobility and her quest to defy expectations—and gravity—from Tony award-winning actress Ali Stroker and Stacy Davidowitz. Thirteen-year-old Nat Beacon loves a lot of things: her dog Warbucks, her best friend Chloe, and competing on her wheelchair racing team, the Zoomers, to name a few. But there's one thing she's absolutely OBSESSED with: MUSICALS! From Hamilton to Les Mis , there's not a cast album she hasn't memorized and belted along to. She's never actually been in a musical though, or even seen an actor who uses a wheelchair for mobility on stage. Would someone like Nat ever get cast? But when Nat's family moves from California to New Jersey, Nat stumbles upon auditions for a kids' production of Wicked , one of her favorite musicals ever! And she gets into the ensemble! The other cast members are super cool and inclusive (well, most of them)— especially Malik, the male lead and cutest boy Nat's ever seen. But when things go awry a week before opening night, will Nat be able to cast her fears and insecurities aside and "Defy Gravity" in every sense of the song title?
15335