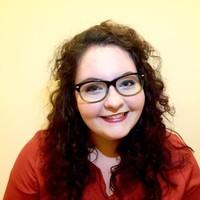 We were delighted to welcome our first practicum student this spring. Mackenzie joined us to focus on our summer reading club promotion and her contribution was invaluable. You will be seeing more of Mackenzie's work in the coming weeks, but we wanted to introduce her and her work at CELA with a blog post she wrote about her experiences.
We want to thank Mackenzie for her hard work and for sharing her time with us, and also thank Dalhousie for facilitating this opportunity. We wish Mackenzie well in her career and hope she comes back regularly for visits.
My name is Mackenzie Cormack, and I am a Master of Information student at Dalhousie University. In this blog, I will go over my experience as a practicum student working with CELA.  
TD Summer Reading Club Work 

 
I worked on writing social media content for CELA regarding the TD Summer Reading Club during my placement. Mainly, this consisted of writing Tweets, Facebook posts and blogs. Apart from guiding topics, I had a lot of creative freedom with how I wanted to cover the TD Summer Reading Club materials and what I wanted to write. While daunting at first, this freedom spurred me to thoroughly learn about CELA as an organization to know how best to frame my writing. All of the CELA staff members I worked with were always happy to share their knowledge with me and answer any of my questions. I felt like the content I was working on was mine to shape and design, but I never felt like there was a lack of support or help when I needed it.  
The work was genuinely fun to do, and I enjoyed learning more about accessibility as a subject. The dedication of the other CELA staff members makes the working environment very pleasant to be in, and it made me excited to hear and learn about what they were doing. Everyone I engaged with during my time with CELA made me feel very welcomed and like I was part of the team. 
Accessible Training Opportunities  

 
I learned so much while working with CELA, and they provided me with so many excellent training opportunities. From a work perspective alone, CELA allowed me to grow as an information professional and become more comfortable using the knowledge I gained from schooling in a practical setting. I also had the opportunity to attend numerous invaluable meetings and webinars on accessibility that imparted knowledge I will carry throughout my career and life. CELA staff always asked me what I wanted to hear more about, which allowed for unique learning opportunities I would not get in a classroom.  
 

CELA as Practicum Placement

 
I cannot stress enough how valuable my time with CELA was. For other students out there, who might be considering CELA for a practicum or work placement, I can say with certainty that you will not regret the time you spend here. You don't need to have a prior interest in accessible library access. I had minimal knowledge about accessible book formats and print disabilities starting this practicum, but I've come away with a genuine interest in the subject. Working with CELA and the fantastic individuals involved with CELA had inspired me to think about working with accessible library services when I finish my degree. Further, I never had an interest in child and teen library services until I decided to take this practicum placement, and now I have found it is something I really enjoy.  
I gained profound knowledge about accessible materials and library service while working as a practicum student with CELA. Coming away from this practicum, I can go into any future career knowing what I can do to make content more accessible to users of different abilities. 
15309