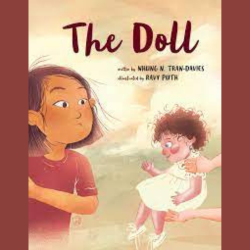 May is Asian Heritage Month in Canada. We've gathered some titles from Asian Canadian authors which have recently been added to our collection.  And we've included some recent favourites for younger readers as well. 
On the Ravine: A Novel By Vincent Lam
From the bestselling, Giller Prize-winning author of Bloodletting & Miraculous Cures comes an exquisitely crafted novel, piercing in its urgency and breathtaking in its intimacy, about the devastating experience of addiction.In his downtown Toronto condo, Dr. Chen awakens to the sound of streetcars below, but it is not the early morning traffic that keeps him from sleep. News banners run across his phone: Fentanyl Crisis; Toxic Drug Supply; Record Number of Deaths. From behind the headlines, on the same screen, glow the faces of his patients, the faces of the what-ifs: What if he had done more, or less? Or something different? Would they still be alive?Claire is a violinist; she feels at one with her music, taking flight in its melody, free in its movement. But now she rises and falls with the opioids in her system, becoming increasingly reckless. After two overdoses in twenty-four hours, she sits in the blue light of her computer, searching a notice board for recommendations: my doctor saved my life; my doctor is just another dealer. And then another message catches her attention, about Chen's clinic: be a guinea pig—why not get paid to take it?When Claire's life intersects with Chen's, the doctor is drawn ever more deeply into the complexities of the doctor-patient relationship, the implication and meaning of his intention to treat. Chen must confront just how far he would go to save a life. Combining the depth of his experience as a physician with the brilliance of his literary talent, Vincent Lam creates a world electric in its precision, radiant in its detail. On the Ravine is a gripping novel of profound emotional force, a soaring achievement from a singular voice in Canadian fiction.
The story of us: A novel By Catherine Hernandez
From the author of Canada Reads finalist Scarborough, a stunning new novel about the unbreakable bond of family and the magic that can happen when we meet in the middle Like many Overseas Filipino Workers, Mary Grace Concepcion has lived a life of sacrifices. First, she left her husband, Ale, to be a caregiver in Hong Kong. Now, she has travelled even farther, to Canada, in the hopes of one day sponsoring Ale and having children of their own. But when she arrives in Toronto, she must navigate a series of bewildering and careless employers and unruly children. Mary Grace seeks new employment as a Personal Support Worker and begins caring for Liz, an elderly patient suffering from Alzheimer's disease, whose health is as fragile as her rundown bungalow beside the Rouge River in Scarborough. While Mary Grace's time with her charge challenges her conservative beliefs, she soon becomes Liz's biggest ally, and the friendship that grows between them will turn out to be just as legendary as Liz's past. Beautifully narrated by the all-seeing eye of Mary Grace's newborn baby, The Story of Us is a novel about sisterhood, about blood and chosen family, and about how belonging can be found where we least expect it. 
Superfan: A Memoir By Jen Sookfong Lee
A sharply observed and beautifully intimate memoir-in-pieces that uses one woman's life-long love affair with pop culture as a revelatory lens to explore family, identity, belonging, grief, and the power of female rage. Named a most anticipated book of the year by the Globe and Mail and the Toronto Star.For most of Jen Sookfong Lee's life, pop culture was an escape from family tragedy and a means of fitting in with the larger culture around her. Anne of Green Gables promised her that, despite losing her father at the age of twelve, one day she might still have the loving family of her dreams. Princess Diana was proof that maybe there was more to being a good girl after all. And yet as Jen grew up, she began to recognize the ways in which pop culture was not made for someone like her—the child of Chinese immigrant parents who looked for safety in the invisibility afforded by embracing model minority myths.Ranging from the unattainable perfection of Gwyneth Paltrow and the father-figure familiarity of Bob Ross, to the long shadow cast by The Joy Luck Club and the life lessons she has learned from Rihanna, Jen weaves together key moments in pop culture with stories of her own failings, longings, and struggles as she navigates the minefields that come with carving her own path as an Asian woman, single mother, and writer. And with great wit, bracing honesty, and a deep appreciation for the ways culture shapes us, she draws direct lines between the spectacle of the popular, the intimacy of our personal bonds, and the social foundations of our collective obsessions.
A History of Burning: A Novel By Janika Oza
Four generations. Three sisters. One impossible choice. A profoundly moving debut novel spanning India, Uganda, England, and Canada, about how one act of survival reverberates across generations of a family and their search for a place of their own. Named a most anticipated book of 2023 by the Toronto Star, the Globe and Mail, OprahDaily, and Goodreads.India, 1898. Pirbhai is the thirteen-year-old breadwinner for his family when he steps into a dhow on the promise of work, only to be taken across the ocean to labour on the East African Railway for the British. With no money or voice but a strong will to survive, he makes an impossible choice that will haunt him for the rest of his days and reverberate across generations.Pirbhai&'s children go on to thrive in Uganda during the waning days of British colonial rule. As the country moves towards independence and military dictatorship, Pirbhai&'s granddaughters—sisters Latika, Mayuri, and Kiya—come of age in a divided nation, each forging her own path for the future. Latika is an aspiring journalist with a fierce determination to fight for what she believes in. Mayuri&'s ambitions will take her farther away from her family than she ever imagined. And fearless Kiya will have to bear the weight of their secrets.Forced to flee Uganda during Idi Amin&'s brutal expulsion of South Asians in 1972, the family must start their lives over again in Toronto. Then one day news arrives that makes each generation question how far they are willing to go, and who they are willing to defy, to secure a place of their own in the world. A masterful and breathtakingly intimate saga of colonialism and exile, complicity and resistance, A History of Burning is a radiant debut about the stories our families choose to share—and those that remain unspoken.
And for younger readers:
The Doll By Nhung N. Tran-Davies, and Ravy Puth
A young girl and her family arrive in an airport in a new country. They are refugees, migrants who have travelled across the world to find safety. Strangers greet them, and one of them gives the little girl a doll. Decades later, that little girl is grown up and she has the chance to welcome a group of refugees who are newly arrived in her adopted country. To the youngest of them, a little girl, she gives a doll, knowing it will help make her feel welcome. Inspired by real events.
Berani By Michelle Kadarusman
From the Governor General's Award-nominated author of Music for Tigers and Girl of the Southern Sea, a passionate story about environmental activism, difficult choices, and the cost of doing the right thing. 
Made in Korea By Sarah Suk
Frankly in Love meets Shark Tank in this feel-good romantic comedy about two entrepreneurial Korean American teens who butt heads—and maybe fall in love—while running competing Korean beauty businesses at their high school. There's nothing Valerie Kwon loves more than making a good sale. Together with her cousin Charlie, they run V&C K-BEAUTY, their school's most successful student-run enterprise. With each sale, Valerie gets closer to taking her beloved and adventurous halmeoni to her dream city, Paris. Enter the new kid in class, Wes Jung, who is determined to pursue music after graduation despite his parents' major disapproval. When his classmates clamor to buy the K-pop branded beauty products his mom gave him to "make new friends," he sees an opportunity—one that may be the key to help him pay for the music school tuition he knows his parents won't cover... What he doesn't realize, though, is that he is now V&C K-BEAUTY's biggest competitor. Stakes are high as Valerie and Wes try to outsell each other, make the most money, and take the throne for the best business in school—all while trying to resist the undeniable spark that's crackling between them. From hiring spies to all-or-nothing bets, the competition is much more than either of them bargained for. But one thing is clear: only one Korean business can come out on top.
15335