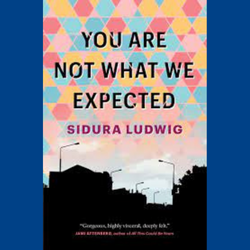 In recognition of Jewish Heritage Month we have collected some titles from Jewish authors, or books about Jewish communities. Enjoy!
Kiss the Red Stairs: The Holocaust, Once Removed by Marsha Lederman
Kiss the Red Stairs is a compelling memoir by award-winning journalist Marsha Lederman delves into her parents' Holocaust stories in the wake of her own divorce, investigating how trauma migrates through generations with empathy, humour, and resilience.
You Are Not What We Expected by Sidura Ludwig
This stunningly intimate collection of stories is an exquisite portrait of a Jewish community — the secular and religious families who inhabit it and the tensions that exist there — that illuminates the unexpected ways we remain connected during times of change. When Uncle Isaac moves back from L.A. to help his sister, Elaine Levine, care for her suddenly motherless grandchildren, he finds himself embroiled in even more drama than he would like in their suburban neighbourhood
Tiny lights for travellers by Naomi Lewis.
When her marriage suddenly ends, and a diary documenting her beloved grandfather's escape from Nazi-occupied Netherlands in the summer of 1942 is discovered, Naomi K. Lewis decides to retrace his journey to learn about her family history. Despite suffering from extreme disorientation and a lifetime of anxiety, she travels alone for the first time. Moving from Amsterdam to Lyon--relying on the marvels of GPS--she discovers family secrets and her own narrative as a second-generation Jewish Canadian.
Our darkest night: A novel of Italy and the second world war by Jennifer Robson
To survive the Holocaust, a young Jewish woman must pose as a Christian farmer's wife in this unforgettable novel from USA Today bestselling author Jennifer Robson—a story of terror, hope, love, and sacrifice, inspired by true events, that vividly evokes the most perilous days of World War II.
The student by Cary Fagan
Set in Toronto, this short novel is a portrait of two pivotal times in the life of Miriam Moscowitz. The first section describes her experiences as a bright young university student in the 1950s and recounts the discrimination she faced as a woman; the second section revisits Miriam's life half a century later, exploring the changes in her community and within herself. 2019.
All the Shining People By Kathy Friedman
Twelve exquisitely written stories depicting the search for human connection and the attempt to fit in far from home. All  the Shining People explores migration, diaspora, and belonging within Toronto's Jewish South African community, as individuals come to terms with the oppressive hierarchies that separate, and the connections that bind.
Nothing the Same, Everything Haunted: The Ballad of Motl the Cowboy by Gary Barwin
A middle-aged Jewish man who fantasizes about being a cowboy goes on an eccentric quest across Europe after the 1941 Nazi invasion of Lithuania in this wild and witty yet heartrending novel from the bestselling author of Yiddish for Pirates, shortlisted for the Scotiabank Giller Prize.
Survivors by Rebecca Clifford
Told for the first time from their perspective, the story of children who survived the chaos and trauma of the  Holocaust. In this beautifully written account, Rebecca Clifford follows the lives of one hundred Jewish children out of the ruins of conflict through their adulthood and into old age.  
15335