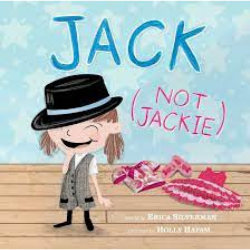 It's so important for readers to see themselves reflected in stories. On International Transgender Day of Visibility we are offering book recommendations featuring Transgender characters and stories from our collection and some resources we have been inspired by.
Books for kids and teens
Being Jazz by Jazz Jennings  The author recounts how her public experiences have influenced her attitude towards the transgender community, as she works to educate others about transgenderism while navigating the challenges of being a teenager. For junior and senior high readers
Morris Micklewhite and the tangerine dress by Christine Baldachinno Morris is a little boy who loves using his imagination. He dreams about having space adventures, paints beautiful pictures and sings the loudest during circle time. But most of all, Morris loves his classroom's dress-up center — he loves wearing the tangerine dress. But the children in Morris's class don't understand.
George by Alex Gino  When people look at George, they think they see a boy. But she knows she's not a boy. She knows she's a girl. George thinks she'll have to keep this a secret forever. Then her teacher announces that their class play is going to be Charlotte's Web. George really, really, REALLY wants to play Charlotte. But the teacher says she can't even try out for the part . . . because she's a boy. With the help of her best friend, Kelly, George comes up with a plan. Not just so she can be Charlotte -- but so everyone can know who she is, once and for all.
Gracefully Grayson by Ami Polonsky  Grayson Sender has been holding onto a secret for what seems like forever: "he" is a girl on the inside, stuck in the wrong gender's body. The weight of this secret is crushing, but sharing it would mean facing ridicule, scorn, rejection, or worse. Despite the risks, Grayson's true self itches to break free.
Ho'onani: Hulu warrior by Heather Gale  An empowering celebration of identity, acceptance and Hawaiian culture based on the true story of a young girl in Hawai?i who dreams of leading the boys-only hula troupe at her school.Ho'onani feels in-between. She doesn't see herself as wahine (girl) OR kane (boy). She's happy to be in the middle. But not everyone sees it that way. Based on a true story. 
Sex is a funny word by Cory Silverberg A comic book for kids that includes children and families of all makeups, orientations, and gender identities, this is an essential resource about bodies, gender, and sexuality for children ages 8 to 10 as well as their parents and caregivers. Much more than the "facts of life" or "the birds and the bees," it opens up conversations between young people and their caregivers in a way that allows adults to convey their values and beliefs while providing information about boundaries, safety, and joy. 
A Boy named Queen by Sara Cassidy Evelyn befriends Queen, the new boy in town, who does not seem to get fazed by bullies and lives by his own rules, and soon begins to learn new things about the world and herself. Grades 3-6. 2016.
Jack (not Jackie) by Erica Silverman In this heartwarming picture book, a big sister realizes that her little sister, Jackie, doesn't like dresses or fairies-she likes ties and bugs! Will she and her family be able to accept that Jackie identifies more as "Jack"?
More resources for inspiration and education
Books For Littles' goal is to curate lists of "engaging children's picture books to discuss hard topics with the next generation of kind and brilliant leaders". The Trans Resilience collection is full of books suggestions, author information and resources for education and support. 
With more visibility to trans and non-binary voices (both positive and negative), it is important to listen and amplify own voices. In this engaging and enlightening talk, Disrupting Literary Hegemony: Trans and Nonbinary Author Spotlight five trans and non-binary writers do just that: talk about their work, the importance of representation (in reading and also in the book publishing world) and their writing process.
For over 30 years, Lambda Literary has championed LGBTQ books and authors. The LAMBDA awards identify and celebrate the best in LGBTQ+ books in the year of their publication. A wide range of categories include works for children and young adults. 
15335