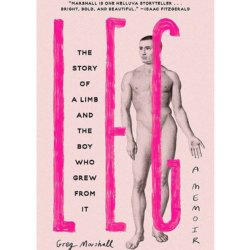 These recently added titles are excellent reads to celebrate Disability Pride Month. 
Being seen: One deafblind woman's fight to end ableism by Elsa Sjunneson
A deafblind writer and professor explores how the misrepresentation of disability in books, movies, and TV harms both the disabled community and everyone else. As a deafblind woman with partial vision in one eye and bilateral hearing aids, Elsa Sjunneson lives at the crossroads of blindness and sight, hearing and deafness—much to the confusion of the world around her. While she cannot see well enough to operate without a guide dog or cane, she can see enough to know when someone is reacting to the visible signs of her blindness and can hear when they're whispering behind her back. And she certainly knows how wrong our one-size-fits-all definitions of disability can be. As a media studies professor, she's also seen the full range of blind and deaf portrayals on film, and here she deconstructs their impact, following common tropes through horror, romance, and everything in between. Part memoir, part cultural criticism, part history of the deafblind experience, Being Seen explores how our cultural concept of disability is more myth than fact, and the damage it does to us all.
Leg: The Story of a Limb and the Boy Who Grew from It by Greg Marshall
Greg Marshall's early years were pretty bizarre. Rewind the VHS tapes (this is the nineties) and you'll see a lopsided teenager limping across a high school stage, or in a wheelchair after leg surgeries, pondering why he's crushing on half of the Utah Jazz. Add to this home video footage a mom clacking away at her newspaper column between chemos, a dad with ALS, and a cast of foulmouthed siblings. Fast forward the tape and you'll find Marshall happily settled into his life as a gay man only to discover he's been living in another closet his whole life: he has cerebral palsy. Here, in the hot mess of it all, lies Greg Marshall's wellspring of wit and wisdom. Leg is an extraordinarily funny and insightful memoir from a daring new voice. Packed with outrageous stories of a singular childhood, it is also a unique examination of what it means to transform when there are parts of yourself you can't change, a moving portrait of a family in crisis, and a tale of resilience of spirit. In Marshall's deft hands, we see a story both personal and universal-of being young and wanting the world, even when the world doesn't feel like yours to want.
Born extraordinary: Empowering children with differences and disabilities by Meg Zucker
A parent's guide to empowering children to embrace their visible and invisible differences Meg Zucker was born with one finger on each hand, shortened forearms, and one toe on each misshapen foot, caused by a genetic condition called ectrodactyly. She would eventually pass this condition on to her two sons, and, along with her husband, raise them and their adopted daughter, who has her own invisible differences. Born of the family's hard-won experiences, this book offers invaluable advice on raising confident, empathetic, and resilient children who succeed, not despite but because of their differences. Born Extraordinary helps parents of children with differences and disabilities to relinquish their instinctive anxieties, embrace their new normal, and ultimately find joy in watching their children thrive. Often the subjects of unwanted attention—ranging from pitying stares to bullying—Zucker and her sons have learned to ignore what others think and live fearlessly. Also incorporating the stories of other families with visible and invisible differences of all kinds, Born Extraordinary gives parents the tools to meet their children's emotional needs while supporting the whole family unit. Parents learn how best to empower their children to confront others' assumptions, grow in confidence, and encourage dialogue—rather than silence, fear, and shame—around difference.
The beauty of dusk: On vision lost and found by Frank Bruni
From New York Times columnist and bestselling author Frank Bruni comes a wise and moving memoir about aging, affliction, and optimism after partially losing his eyesight. One morning in late 2017, New York Times columnist Frank Bruni woke up with strangely blurred vision. He wondered at first if some goo or gunk had worked its way into his right eye. But this was no fleeting annoyance, no fixable inconvenience. Overnight, a rare stroke had cut off blood to one of his optic nerves, rendering him functionally blind in that eye—forever. And he soon learned from doctors that the same disorder could ravage his left eye, too. He could lose his sight altogether. In The Beauty of Dusk , Bruni hauntingly recounts his adjustment to this daunting reality, a medical and spiritual odyssey that involved not only reappraising his own priorities but also reaching out to, and gathering wisdom from, longtime friends and new acquaintances who had navigated their own traumas and afflictions. The result is a poignant, probing, and ultimately uplifting examination of the limits that all of us inevitably encounter, the lenses through which we choose to evaluate them and the tools we have for perseverance. Bruni's world blurred in one sense, as he experienced his first real inklings that the day isn't forever and that light inexorably fades, but sharpened in another. Confronting unexpected hardship, he felt more blessed than ever before. There was vision lost. There was also vision found.
The Country of the Blind: A Memoir at the End of Sight by Andrew Leland
We meet Andrew Leland as he's suspended in the liminal state of the soon-to-be blind: he's midway through his life with retinitis pigmentosa, a condition that ushers those who live with it from sightedness to blindness over years, even decades. He grew up with full vision, but starting in his teenage years, his sight began to degrade from the outside in, such that he now sees the world as if through a narrow tube. Soon—but without knowing exactly when—he will likely have no vision left. Full of apprehension but also dogged curiosity, Leland embarks on a sweeping exploration of the state of being that awaits him: not only the physical experience of blindness but also its language, politics, and customs. He negotiates his changing relationships with his wife and son, and with his own sense of self, as he moves from his mainstream, "typical" life to one with a disability. Part memoir, part historical and cultural investigation, The Country of the Blind represents Leland's determination not to merely survive this transition but to grow from it—to seek out and revel in that which makes blindness enlightening. Thought-provoking and brimming with warmth and humor, The Country of the Blind is a deeply personal and intellectually exhilarating tour of a way of being that most of us have never paused to consider—and from which we have much to learn.
15335