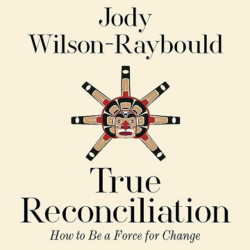 September 30 marks National Day for Truth and Reconciliation. We have selected some newer titles from our collection as recommended reads for this important day. 
Books for children
Muinji'j asks why: The story of the mi'kmaq and the shubenacadie residential school by Shanika Jayde MacEachern
Summary: An educational and heartfelt retelling of the story of the Mi'kmaq and their traditional lands, Mi'kma'ki, for young readers, focused on the generational traumas of the Indian Residential School System. "The story of the Mi'kmaw people is one that very few truly know, Ladybug. Even fewer understand what happened at the residential schools. It is a hard story to tell, but you must know the truth. Sit and I will tell you the story." When seven-year-old Muinji'j comes home from school one day, her Nana and Papa can tell right away that she's upset. Her teacher has been speaking about the residential schools. Unlike most of her fellow students, Muinji'j has always known about the residential schools. But what she doesn't understand is why the schools existed and why children would have died there. Nana and Papa take Muinji'j aside and tell her the whole story, from the beginning. They help her understand all of the decisions that were made for the Mi'kmaq, not with the Mi'kmaq, and how those decisions hurt her people. They tell her the story of her people before their traditional ways were made illegal, before they were separated and sent to reservations, before their words, their beliefs, and eventually, their children, were taken from them. A poignant, honest, and necessary book featuring brilliant artwork from Mi'kmaw artist Zeta Paul and words inspired by Muinji'j MacEachern's true story, Muinji'j Asks Why will inspire conversation, understanding, and allyship for readers of all ages.
The Secret Pocket by Peggy Janicki, Carrielynn Victor
Summary: This illustrated nonfiction picture book tells the true story of how a resilient group of girls at a residential school sewed secret pockets into their clothes to hide food.
Books for Adults
True Reconciliation: How to Be a Force for Change by Jody Wilson-Raybould
Summary: From the #1 bestselling author of 'Indian' in the Cabinet, a groundbreaking and accessible roadmap to advancing true reconciliation across Canada.There is one question Canadians have asked Jody Wilson-Raybould more than any other: What can I do to help advance reconciliation? This has been true from her time as a leader of British Columbia's First Nations, as a Member of Parliament, as Minister of Justice and Attorney General, within the business communities she interacts, and when having conversations with people around their kitchen tables. Whether speaking as individuals, communities, organizations, or governments, people want to take concrete and tangible action that will make real change. They just need to know how to get started, or to take the next step. For Wilson-Raybould, what individuals and organizations need to do to advance true reconciliation is self-evident, accessible, and achievable. True Reconciliation is broken down into three core practices—Learn, Understand, and Act—that can be applied by individuals, communities, organizations, and governments. They are based on the historical and contemporary experience of Indigenous peoples in their relentless efforts to effect transformative change and decolonization; and deep understanding and expertise about what has been effective in the past, what we are doing right, and wrong, today, and what our collective future requires. True Reconciliation, ultimately, is about building transformed patterns of just and harmonious relations between Indigenous and non-Indigenous peoples at all levels of society. Throughout the book, the author shares her voice and experience with others who tell their stories. To help with the practices of learning, understanding, and acting, there is a planning guide at the end of the book—to help the reader translate words into action for themselves as individuals, for their communities, organizations, and governments at all levels. The ultimate and achievable goal of True Reconciliation is to break down the silos we've created that prevent meaningful change, to be empowered to increasingly act as 'inbetweeners,' and to take full advantage of this moment in our history to positively transform the country into a place we can all be proud of.
It Stops Here: Standing Up for Our Lands, Our Waters, and Our People by Michael Simpson, Rueben George
Summary: A personal account of one man's confrontation with colonization that illuminates the philosophy and values of a First Nation on the front lines of the fight against an extractive industry, colonial government, and threats to the life-giving Salish Sea.It Stops Here is the profound story of the spiritual, cultural, and political resurgence of a nation taking action to reclaim their lands, waters, law, and food systems in the face of colonization. In deeply moving testimony, it recounts the intergenerational struggle of the Tsleil-Waututh Nation to overcome colonial harms and the powerful stance they have taken alongside allies and other Indigenous nations across Turtle Island against the development of the Trans Mountain Pipeline—a fossil fuel megaproject on their unceded territories.In a firsthand account of the resurgence told by Rueben George, one of the most prominent leaders of the widespread opposition to the Trans Mountain Pipeline expansion, It Stops Here reveals extraordinary insights and revelations from someone who has devoted more than a decade of his life to fighting the project. Rueben shares stories about his family's deep ancestral connections to their unceded lands and waters, which are today more commonly known as Vancouver, British Columbia and the Burrard Inlet. He discloses how, following the systematic cultural genocide enacted by the colonial state, key leaders of his community, such as his grandfather, Chief Dan George, always taught the younger generations to be proud of who they were and to remember the importance of their connection to the inlet.Part memoir, part call to action, It Stops Here is a compelling appeal to prioritize the sacred over oil and extractive industries, while insisting that settler society honour Indigenous law and jurisdiction over unceded territories rather than exploiting lands and reducing them to their natural resources.
Unbroken: My Fight for Survival, Hope, and Justice for Indigenous Women and Girls By Angela Sterritt
Summary: Unbroken is an extraordinary work of memoir and investigative journalism focusing on missing and murdered Indigenous women and girls, written by an award-winning Gitxsan journalist who survived life on the streets against all odds. As a Gitxsan teenager navigating life on the streets, Angela Sterritt wrote in her journal to help her survive and find her place in the world. Now an acclaimed journalist, she writes for major news outlets to push for justice and to light a path for Indigenous women, girls, and survivors. In her brilliant debut, Sterritt shares her memoir alongside investigative reporting into cases of missing and murdered Indigenous women in Canada, showing how colonialism and racism led to a society where Sterritt struggled to survive as a young person, and where the lives of Indigenous women and girls are ignored and devalued. Growing up, Sterritt was steeped in the stories of her ancestors: grandparents who carried bentwood boxes of berries, hunted and trapped, and later fought for rights and title to that land. But as a vulnerable young woman, kicked out of the family home and living on the street, Sterritt inhabited places that, today, are infamous for being communities where women have gone missing or been murdered: Vancouver's Downtown Eastside, and, later on, Northern BC's Highway of Tears. Sterritt faced darkness: she experienced violence from partners and strangers and saw friends and community members die or go missing. But she navigated the street, group homes, and SROs to finally find her place in journalism and academic excellence at university, relying entirely on her own strength, resilience, and creativity along with the support of her ancestors and community to find her way. "She could have been me," Sterritt acknowledges today, and her empathy for victims, survivors, and families drives her present-day investigations into the lives of missing and murdered Indigenous women. In the end, Sterritt steps into a place of power, demanding accountability from the media and the public, exposing racism, and showing that there is much work to do on the path towards understanding the truth. But most importantly, she proves that the strength and brilliance of Indigenous women is unbroken, and that together, they can build lives of joy and abundance.
Valley of the birdtail: An indian reserve, a white town, and the road to reconciliation by Andrew Stobo Sniderman and Douglas Sanderson
Summary: A heart-rending true story about racism and reconciliation. Divided by a beautiful valley and 150 years of racism, the town of Rossburn and the Waywayseecappo Indian reserve have been neighbours nearly as long as Canada has been a country. Their story reflects much of what has gone wrong in relations between Indigenous Peoples and non-Indigenous Canadians. It also offers, in the end, an uncommon measure of hope. Valley of the Birdtail is about how two communities became separate and unequal—and what it means for the rest of us. In Rossburn, once settled by Ukrainian immigrants who fled poverty and persecution, family income is near the national average and more than a third of adults have graduated from university. In Waywayseecappo, the average family lives below the national poverty line and less than a third of adults have graduated from high school, with many haunted by their time in residential schools. This book follows multiple generations of two families, one white and one Indigenous, and weaves their lives into the larger story of Canada. It is a story of villains and heroes, irony and idealism, racism and reconciliation. Valley of the Birdtail has the ambition to change the way we think about our past and show a path to a better future.
15335