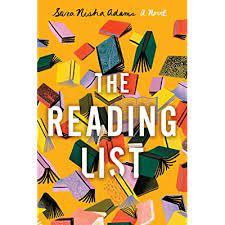 We've gathered some books about books and booklovers in honour of International Literacy Day. Books have an incredible capacity to educate, entertain and connect us which is why it is crucial that everyone, including those with print disabilities have access to reading materials and the skills and tools to read them. 
We hope you enjoy these selections.
The reading list: A novel by Sara Nisha Adams
An unforgettable and heartwarming debut about how a chance encounter with a list of library books helps forge an unlikely friendship between two very different people in a London suburb. Widower Mukesh lives a quiet life in Wembley, in West London after losing his beloved wife. He shops every Wednesday, goes to Temple, and worries about his granddaughter, Priya, who hides in her room reading while he spends his evenings watching nature documentaries. Aleisha is a bright but anxious teenager working at the local library for the summer when she discovers a crumpled-up piece of paper in the back of To Kill a Mockingbird. It's a list of novels that she's never heard of before. Intrigued, and a little bored with her slow job at the checkout desk, she impulsively decides to read every book on the list, one after the other. As each story gives up its magic, the books transport Aleisha from the painful realities she's facing at home. When Mukesh arrives at the library, desperate to forge a connection with his bookworm granddaughter, Aleisha passes along the reading list...hoping that it will be a lifeline for him too. Slowly, the shared books create a connection between two lonely souls, as fiction helps them escape their grief and everyday troubles and find joy again
Reading Lolita in Tehran by Azar Nafisi
In Iran in the late 90's, Azar Nafisi and seven young women - her former students - gathered at her house every Thursday to discuss forbidden works of Western literature. Shy and uncomfortable at first, they soon began to open up, not only about the novels they were reading but also their own dreams and disappointments. Their personal stories intertwine with those they are reading. Azar Nafisi also tells her own story.
Home Reading Service: A Novel by Fabio Morábito
In this poignant novel, a man guilty of a minor offense finds purpose unexpectedly by way of his punishment—reading to others.  After an accident—or "the misfortune," as his cancer-ridden father's caretaker, Celeste, calls it—Eduardo is sentenced to a year of community service reading to the elderly and disabled. Stripped of his driver's license and feeling impotent as he nears thirty-five, he leads a dull, lonely life, chatting occasionally with the waitresses of a local restaurant or walking the streets of Cuernavaca. Once a quiet town known for its lush gardens and swimming pools, the "City of Eternal Spring" is now plagued by robberies, kidnappings, and the other myriad forms of violence bred by drug trafficking.  At first, Eduardo seems unable to connect. He movingly reads the words of Dostoyevsky, Henry James, Daphne du Maurier, and more, but doesn't truly understand them. His eccentric listeners—including two brothers, one mute, who moves his lips while the other acts as ventriloquist; deaf parents raising children they don't know are hearing; and a beautiful, wheelchair-bound mezzo soprano—sense his detachment. Then Eduardo comes across a poem his father had copied by the Mexican poet Isabel Fraire, and it affects him as no literature has before.  Through these fascinating characters, like the practical, quick-witted Celeste, who intuitively grasps poetry even though she never learned to read, Fabio Morábito shows how art can help us rediscover meaning in a corrupt, unequal society.
The end of your life book club by Will Schwalbe
A wonderful book about wonderful books and mothers and sons and the enduring braid between them.' - Mitch Albom, author of Tuesdays With Morrie
Mary Anne Schwalbe is waiting for her chemotherapy treatments when her son Will casually asks her what she's reading. The conversation they have grows into tradition: soon they are reading the same books so they can have something to talk about in the hospital waiting room. Their choices range from classic (Howards End) to popular (The Girl with the Dragon Tattoo), from fantastic (The Hobbit) to spiritual (Jon Kabat-Zinn), with many more in between. We hear their passion for reading and their love for each other in their intimate and searching discussions. The End of Your Life Book Club is a profoundly moving testament to the unconditional love between a child and parent, and the power of reading in our lives.
The man who loved books too much: the true story of a thief, a detective, and a world of literary obsession by Allison Hoover Bartlett
John Gilkey is an obsessed, unrepentant book thief who has stolen hundreds of thousands of dollars worth of rare books from book fairs, stores, and libraries around the country. Ken Sanders is the self-appointed "bibliodick" (book dealer with a penchant for detective work) driven to catch him. Bartlett befriended both outlandish characters and found herself caught in the middle of efforts to recover hidden treasure. A cat-and-mouse chase that not only reveals exactly how Gilkey pulled off his dirtiest crimes, where he stashed the loot, and how Sanders ultimately caught him but also explores the romance of books, the lure to collect them, and the temptation to steal them. Bartlett looks at the history of book passion, collection, and theft through the ages, to examine the craving that makes some people willing to stop at nothing to possess the books they love.
The library book by Susan Orlean
Reopens the unsolved mystery of the most catastrophic library fire in American history; chronicles the Los Angeles Public Library fire and its aftermath to showcase the larger, crucial role that libraries play in our lives; delves into the evolution of libraries across the country and around the world, from their humble beginnings as a metropolitan charitable initiative to their current status as a cornerstone of national identity; brings each department of the library to vivid life through on-the-ground reporting; studies arson attempts to burn a copy of a book herself; reflects on her own experiences in libraries; and reexamines the case of Harry Peak, the blond-haired actor long suspected of setting fire to the LAPL more than thirty years ago. 

The Guernsey Literary and Potato Peel Pie Society by Annie Barrows, Mary Ann Shaffer
London is emerging from the shadow of the Second World War, and writer Juliet Ashton is looking for her next book subject. Who could imagine that she would find it in a letter from a man she's never met, a native of the island of Guernsey, who has come across her name written inside a book by Charles Lamb. As Juliet and her new correspondent exchange letters, Juliet is drawn into the world of this man and his friendsand what a wonderfully eccentric world it is. The Guernsey Literary and Potato Peel Pie Societyborn as a spur-of-the-moment alibi when its members were discovered breaking curfew by the Germans occupying their islandboasts a charming, funny, deeply human cast of characters, from pig farmers to phrenologists, literature lovers all. Juliet begins a remarkable correspondence with the society's members, learning about their island, their taste in books, and the impact the recent German occupation has had on their lives. Captivated by their stories, she sets sail for Guernsey, and what she finds will change her forever. Written with warmth and humor as a series of letters, this novel is a celebration of the written word in all its guises, and of finding connection in the most surprising ways.

I'd Rather Be Reading: The Delights and Dilemmas of the Reading Life by Anne Bogel
For so many people, reading isn't just a hobby or a way to pass the time-it's a lifestyle. Our books shape us, define us, enchant us, and even sometimes infuriate us. Our books are a part of who we are as people, and we can't imagine life without them.I'd Rather Be Reading is the perfect literary companion for everyone who feels that way. In this collection of charming and relatable reflections on the reading life, beloved blogger and author Anne Bogel leads readers to remember the book that first hooked them, the place where they first fell in love with reading, and all of the moments afterward that helped make them the reader they are today. Known as a reading tastemaker through her popular podcast What Should I Read Next?, Bogel invites book lovers into a community of like-minded people to discover new ways to approach literature, learn fascinating new things about books and publishing, and reflect on the role reading plays in their lives. The perfect gift for the bibliophile in everyone's life, I'd Rather Be Reading will command an honored place on the overstuffed bookshelves of any book lover.
The Reading Cure: How Books Restored My Appetite by Laura Freeman
Freeman's pleasure in the food of literature ... is infectious. The Reading Cure will speak to anyone who has ever felt pain and found solace in a book' Bee Wilson
At the age of fourteen, Laura Freeman was diagnosed with anorexia. But even when recovery seemed impossible, the one appetite she never lost was her love of reading. Slowly, book by book, Laura re-discovered how to enjoy food - and life - through literature.
The Reading Promise: My Father and the Books We Shared by Jim Brozina, Alice Ozma
When Alice Ozma was in 4th grade, she and her father decided to see if he could read aloud to her for 100 consecutive nights. On the hundredth night, they shared pancakes to celebrate, but it soon became evident that neither wanted to let go of their storytelling ritual. So they decided to continue what they called "The Streak." Alice's father read aloud to her every night without fail until the day she left for college. Alice approaches her book as a series of vignettes about her relationship with her father and the life lessons learned from the books he read to her.Books included in the Streak were: Great Expectations by Charles Dickens, the Oz books by L. Frank Baum, Harry Potter by J. K. Rowling, Alice's Adventures in Wonderland by Lewis Carroll, and Shakespeare's plays.
15335