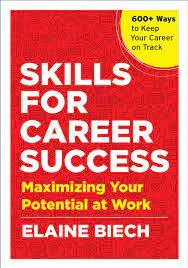 Things are changing for the better for people with disabilities when it comes to finding work.  While many have experienced higher levels of unemployment than the non-disabled workforce, the Inclusivity, Diversity, Equity and Accessibility (IDEA) movement is increasing awareness and commitment to removing barriers to fuller employment for people with disabilities.  
Authors like Daniel Chait and Jon Stross who wrote "Talent Makers: How the Best Organizations win through structure and inclusive hiring" have noted a shift in the commitment of companies and organizations to reduce bias in hiring decisions, create opportunities for more diverse candidates and build more inclusive teams.  As the Great Resignation forces companies to find ways to attract and retain valuable staff members, people with disabilities have an increasing number of opportunities to showcase their talents.   
Whether you are considering a new job or career, or if you just need a little inspiration, or to brush up on some business skills, we can help! If you are a CELA user, or a library, educator or professional supporting print disabilities, you can find many career and job-finding resources in audio, e-text and braille formats in CELA's growing collection.  Let's explore how to find these titles and some great books to start you off. 
Browse by categories 
Not looking for a specific title? You may wish to browse through the titles under our Careers and job hunting category.  There are many books covering a wide range of job-related topics including working in a specific career, resume writing and interview preparation.  
Subscribe to magazines 
CELA offers numerous e-text magazines to bring you the latest news, information on the economy, technology and subject specialties to fuel your insight into the latest career trends. Receive the latest issue to your phone through the EasyReader app to titles such as the Economist, Forbes, Wired and others. 
Read newspapers 
Stay current by reading one of CELA's newspapers as e-text on your web browser.  Papers such as the Globe & Mail's Report of Business section provide career tips as does The New York Times' Business/Financial section.  Regional and local papers are also good sources to find business news to boost your career path. 
If you need more in-depth resources to support your job search or career goals, CELA offers a wealth of titles covering the many facets of job seeking, career development and leadership growth.  
For the job seeker… 
The Job closer: Time-saving techniques for acing resumes, interviews, negotiations, and more 
By Steve Dalton (2021)  
The author of The 2-Hour Job Search shows you how to land your dream job, from writing the perfect resume  and cover letter to nailing any interview and negotiating your offer 
For the new graduate… 
Skills for career success: Maximizing your potential at work by Elaine Biech (2021)  
This career development tool kit is for people who want to take charge of their own professional futures. If you  want to have a career that is meaningful and inspires you, you must prepare for it the same way you would a marathon—developing an overall training plan to carry you through to race day and beyond. 
For the career changer… 
Develop: 7 practical tools to take charge of your career by Ted Fleming (2020) 
Why are some people able to climb the corporate ladder easily while others get stuck? How can you set yourself  on a rewarding career path and avoid job frustration? In Develop: 7 Practical Tools to Take Charge of Your Career, Ted Fleming, head of talent development for CVS Health, shares simple, powerful advice for finding the right job or growing in an existing role. 
For building leadership... 
Minority Leader: How to Lead from the Outside and Make Real Change by Stacey Abrams (2018) 
A personal and empowering blueprint―from one of America's rising Democratic stars―for outsiders who seek to become the ones in charge. Leadership is hard. Convincing others―and often yourself―that you possess the answers and are capable of world-affecting change requires confidence, insight, and sheer bravado. 
Investing in your own career goes beyond the job search – it is learning from peers and leaders to build on your own confidence, talents and discovering your strengths.  We have books that can support your personal grown so you can become a player (Inclusify: The Power of Uniqueness and Belonging to Build Innovative Teams by Stephanie K. Johnson), discover your personality type (Do What You Are: Discover the Perfect Career for You Through the Secrets of Personality Type by Paul D. Tieger et al. ) and influence your team (Impact Players: How to Take the Lead, Play Bigger and Multiply your Impact by Liz Wiseman). 
Good luck on your job finding and career journey. With the advice from experts in these titles, you are well on your way to finding your career path. Find these titles and more at CELA! 
15335