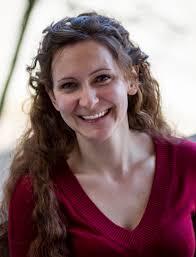 Hamilton author Amanda Leduc's book The Centaur's Wife will be published in all accessible and conventional formats simultaneously, thanks to a unique partnership between the author, Penguin Random House Canada and Canada's two accessible library services, the Centre for Equitable Library Access (CELA) and the National Network for Equitable Library Service (NNELS).
The Centaur's Wife will be released by Random House Canada on February 16 in standard print and audio, but also in accessible audio, e-text and braille, and will immediately be made available to Canadians with print disabilities through both NNELS and CELA.
The Centaur's Wife weaves together original fairy tales in a beautiful and heartbreaking story of what happens when we ignore the natural world and the darker parts of our own natures.
"This is Amanda's second book to be published in conventional and accessible formats simultaneously and represents a significant shift towards creating an equitable reading landscape," says Laurie Davidson, Executive Director of the Centre for Equitable Library Access. "Amanda's energy and passion for accessibility, and the commitment of her team at Penguin Random House Canada, made this possible. We hope this collaboration might become a template for other publishers moving forward so we can increase books for those with print disabilities."
Typically, books are published in conventional formats first and then converted to accessible formats, resulting in a delay between the publication date and the time when the estimated 1 in 10 people with print disabilities in Canada can read these books.
"The simultaneous release of The Centaur's Wife in all accessible and conventional formats is excellent news for readers with print disabilities in Canada as everyone will be able to read it, regardless of ability, as soon as it is published," says Daniella Levy-Pinto, Project Coordinator at the National Network for Equitable Library Service. "This project, driven by Amanda and the wonderful team at Penguin Random House Canada, shows that accessibility can be incorporated from the outset. This is also a testament to the great things that can happen when authors, publishers and accessibility experts like CELA and NNELS collaborate towards the goal of born-accessible publishing."
"We are delighted to be able to share Amanda Leduc's brilliant new novel, The Centaur's Wife, with all readers and listeners on publication day," says Anne Collins, Executive Editor of Random House Canada. "The centaurs of Amanda's imagination are creatures who don't easily fit into the world because the world wasn't built for them, something she recognizes keenly herself, as a person with cerebral palsy. Her novel is full of catastrophe, but also beauty—and the magic that happens when we realize there is love and strength to be found in unexpected places. Many thanks from all of us at Penguin Random House Canada to the remarkable teams at CELA and NNELS for their expertise and dedication to making space for all book lovers. We look forward to our future collaborations, which will mean that we can invite everyone to experience the books we publish at the same time."
15335