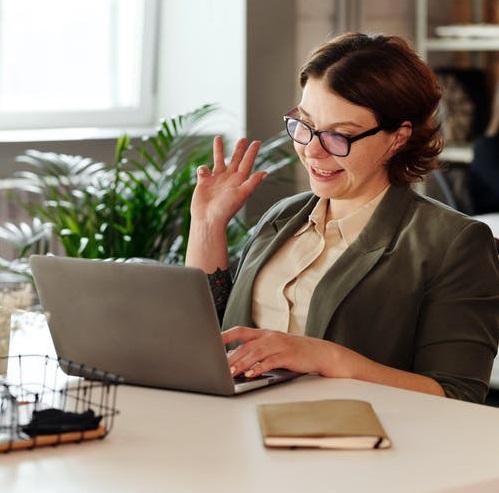 If your library is interested in making your online programs accessible for people with disabilities, but you're not sure where to begin, we're here to help! We've got some simple tips to help you make your virtual presence meet accessibility compliance standards, and deliver programs so everyone can enjoy them.
Know your audience's needs
With any communication, you need to know your audience and when it comes to disabilities, it helps to consider the best ways to deliver your content to those who may not be able to see, hear or fully understand the information you are giving to them. 
Begin with accessible technology basics
Choose an online platform with accessibility features for both the audience and also for the presenter.  Some popular platforms have the ability to adjust the font size in the chat, or offer keyboard shortcut commands for example. And if they say they follow WCAG (Web Content Accessibility Guidelines) standards, it means the program is fairly screen-reader friendly for people with vision loss.
Here are some of the basic accessibility guidelines to follow when doing live events or recordings:
•    Provide a list of keyboard shortcuts to operate the system for those who cannot use a mouse. Your webinar software provider should have a link to them that you can share.
•    Display live captions (the spoken text is written at the bottom of the screen) for those who are deaf or hard of hearing
•    Describe content that is not said aloud for those who are blind or have low vision
•    Provide a transcript of the text with your recording of the event so it can be read afterward
•    Include image descriptions if you share your slides or handouts and they include photos, images and logos. This is also known as adding alt text.
You may wonder why you would need a transcript when your video offers captions. A transcript gives the viewer the advantage of quickly reading through the video content, searching for terms if they are looking for something specific and for people who are deafblind, they can convert the transcript into braille. 
Make it easy on your audience
Now that you know some of the tech basics to make your programs accessible, you can plan how to connect with audiences of all abilities through the screen. Whether you're doing storytimes, science demonstrations, author presentations, workshops or book clubs, you can engage your audience by following some simple tips. Even very visual activities like magic shows can come alive for all audiences. 
Here are some suggestions: 
•    Speak clearly and use plain language to help those with comprehension difficulties or who are not fluent English speakers
•    Add slight pauses in videos to give viewers time to catch up
•    Avoid displaying busy backgrounds, sudden movements and any kind or flickering lights; these can bother people with some sensory disorders or even potentially cause seizures
•    Be prepared to offer accommodations on request, e.g. sign-language interpreters, or instructions in alternate formats.
•    Provide book club titles as audiobooks, ebooks or in braille either through your own collections, or through outside collections like CELA
If you have guest presenters, you may wish to pass along these tips.  
Congrats on your efforts! By making all aspects of your online programs accessible, you'll reach more members of your community, increase attendance and video view rates and participate in the movement towards inclusivity. 
Resources: 
20 Tips for Teaching an Accessible Online Course (DO.IT Disabilities, Opportunities, Internetworking and Technology)
AODA: Accessible Online Learning 
Making Audio and Video Media Accessible 
News: 7 ways to make your virtual programs more accessible to patrons with disabilities (Programming Librarian) 
User Experiences and Benefits to Organizations
Web Content Accessibility Guidelines (WCAG) Overview
 
15309