Overview
Libraries may request Deposit Collections of DAISY books in French or English. Titles are automatically selected for Deposit Collections by subject, language and age preferences.
Request deposit collection

For more information or to change your deposit collection profile or preferences, contact us.
Number of titles
Small library systems: Population less than 100,000 = 100 titles
Medium library systems: Population 100,000-250,000 = 250 titles
Large library systems: Population 250,000+ = 500 titles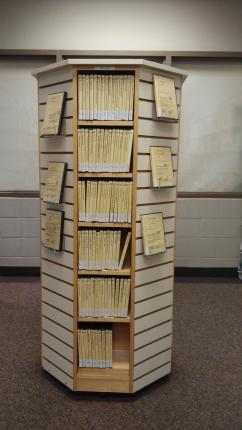 Shipping and refresh cycle
Libraries can expect the first shipment of their Deposit Collection approximately 3 weeks after submitting their request. Deposit Collections are refreshed with new titles on a 6 or 12 month schedule. DAISY books on CD are shipped free of charge to libraries. Individual libraries package CDs to suit local circulation requirements.
Cataloguing
MARC records normally sent with your deposit collection are currently unavailable. We apologize for the inconvenience and we hope to resume providing records soon. In the meantime, you will find records for CELA books in the Voila catalogue from Library and Archives Canada.
Circulation
Circulation of deposit material is restricted to patrons with print disabilities. In accordance with Section 32 of Canada's Copyright Act qualifying print disabilities include visual, physical or learning disabilities that prevent a person from reading print. It is up to libraries to make decisions regarding the purchase and circulation of accessible technology such as DAISY players.
Return
Items in the Deposit Collection are on long-term loan to libraries, and remain the property of the CELA. When your library no longer requires certain deposit titles for your collection, please return the items to CELA for check-in and recycling. Indicate "Literature for the Blind Post Free" on packaging to avoid mailing charges. Send to:
Centre for Equitable Library Access
1929 Bayview Ave
Toronto, ON
M4G 3E8
Templates
For more information, please contact us.