Title search results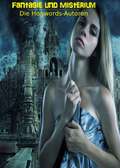 By Die Hogwords-Autoren. 2022
DAISY Audio (CD), DAISY Audio (Direct to Player), DAISY Audio (Zip), DAISY text (Direct to player), DAISY text (Zip), Word (Zip), ePub (Zip)
Fantasy, Folklore, fables and fairy tales
Synthetic audio
Fantasie und Misterium von die Hogwords-Autoren 10 Autoren messen sich an den großen Mysterien unserer Geschichte. Fantasie und Misterium Fantamisteri,…
Fantastische, Fantastische Mysterien ... viele verschiedene Arten (auch wenn wir uns im ersten wiedererkannt haben), um diese Sammlung von Geschichten zu definieren, die von zehn verschiedenen Autoren geschrieben wurden, die versuchen wollten, das Mysterium und das Fantastische zu erforschen, Von Historie bis Fantasy, vom Horrorgelb bis zum Thriller, der an Science Fiction grenzt, von Zeitreisen bis Esoterik, von antiken Relikten bis Fantahorror, mit einer Prise Erotik ... Kurzum, die Autoren haben sich gegönnt sich selbst, jeder basierend auf seiner eigenen Kultur, seiner Kreativität, seinen bevorzugten Inspirationsthemen, indem er Geschichten erzählt, in denen das Mysterium und das Phantastische die beiden Angelpunkte sind, um die sich die erzählten Ereignisse drehen. Was verbindet diese Geschichten, wenn auch so unterschiedlich in Bezug auf Themen, Stil, Inspirationsgründe? Die Tatsache, berühmte Persönlichkeiten aus Geschichte, Literatur und Kino als Protagonisten ausgewählt und sie dazu gebracht zu haben, mit ebenso berühmten Objekten, Umgebungen, Situationen und Orten zu interagieren. Tatsächlich geht es von den alchemistischen Höhlen zum Bermuda-Dreieck, vom Heiligen Gral zum Heiligen Grabtuch, mit Charakteren wie Kaiser Konstantin, John Fitzgerald Kennedy, D'Artagnan, dem Zauberer Merlin, Don Giovanni, Annibale, Agatha Marple, George Orwell, Tolkien, Wagner als Protagonisten (und nicht nur, denn neben den Großen gibt es auch eine Reihe von Charakteren, die auf den ersten Blick "klein" erscheinen mögen, die aber für die Geschichte funktional sind und sie bereichern.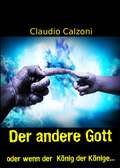 DAISY Audio (CD), DAISY Audio (Direct to Player), DAISY Audio (Zip), DAISY text (Direct to player), DAISY text (Zip), Word (Zip), ePub (Zip)
Fantasy
Synthetic audio
Der andere Gott von Claudio Calzoni oder wenn der König der Könige ... Was wäre passiert, wenn das Leben des…
Gottes, der die Geschichte der Menschheit verändert hat, anders gewesen wäre? Claudio Calzoni entwirft eine alternative Zukunft, eine Schiebetür, für das göttliche Wesen, das die Basis jeder modernen Gesellschaft ist.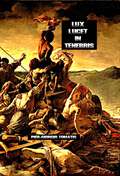 By Pier-Giorgio Tomatis. 2022
DAISY Audio (CD), DAISY Audio (Direct to Player), DAISY Audio (Zip), DAISY text (Direct to player), DAISY text (Zip), Word (Zip), ePub (Zip)
Science fiction, Fantasy
Synthetic audio
Lux lucet in tenebris von Pier-Giorgio Tomatis Der "wilde" Anti-System-Roman ... Lux lucet in tenebris Die Gebärmutter des Satans wurde…
zerstört, aber die Männer, die nach Nicholas Marshall suchen, sind ihm immer noch auf der Spur und er lebt unglaublicherweise noch. Liebe und ein Blutsband werden ihn erneut vor seinem Schicksal retten ...