Title search results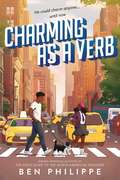 Braille (Contracted), Electronic braille (Contracted), DAISY Audio (CD), DAISY Audio (Direct to Player), DAISY Audio (Zip), DAISY text (Direct to player), DAISY text (Zip), Word (Zip), ePub (Zip)
Humourous fiction, General fiction
Synthetic audio, Automated braille
From the award-winning author of The Field Guide to the North American Teenager comes a whip-smart and layered romantic comedy.…
Perfect for fans of Nicola Yoon and Jenny Han. Henri "Halti" Haltiwanger can charm just about anyone. He is a star debater and popular student at the prestigious FATE academy, the dutiful first-generation Haitian son, and the trusted dog walker for his wealthy New York City neighbors. But his easy smiles mask a burning ambition to attend his dream college, Columbia University. There is only one person who seems immune to Henri's charms: his "intense" classmate and neighbor Corinne Troy. When she uncovers Henri's less-than-honest dog-walking scheme, she blackmails him into helping her change her image at school. Henri agrees, seeing a potential upside for himself. Soon what started as a mutual hustle turns into something more surprising than either of them ever bargained for. . . . This is a sharply funny and insightful novel about the countless hustles we have to keep from doing the hardest thing: being ourselves.
Braille (Contracted), Electronic braille (Contracted), DAISY Audio (CD), DAISY Audio (Direct to Player), DAISY Audio (Zip), DAISY text (Direct to player), DAISY text (Zip), Word (Zip), ePub (Zip)
General fiction, Humourous fiction
Synthetic audio, Automated braille
Barry Squires, Full Tilt takes readers on a romp through the streets of St. John's and into the Squires household,…
a place where tragedy strikes but love prevails. Derry Girls meets Billy Elliot with an East coast twist.It's 1995. When the Full Tilt Dancers give an inspiring performance at the opening of the new bingo hall, twelve-year-old Finbar (Barry) Squires wants desperately to join the troupe. Led by Father O'Flaherty, the Full Tilt Irish Step Dancers are the most sought-after act in St. John's, Newfoundland (closely followed by popular bagpiper, Alfie Bragg and his Agony Bag). Having watched Riverdance twice, Barry figures he'll nail the audition. And good thing too -- it'd be nice to be known for something other than the port wine stain on his cheek. With questionable talent and an unpredictable temper, Barry's journey to stardom is jeopardized by his parents' refusal to take his dreams seriously. Thankfully, Barry has the support of a lively cast of characters: his ever-present grandmother, Nanny Squires; his adorable baby brother, Gord; an old British rocker named Uneven Steven; a group of geriatrics from the One Step Closer to God Nursing Home; and Saibal, a friend with whom Barry gets up to no good. Told with humor and a healthy dose of irreverence, Barry Squires, Full Tilt is the latest novel by Heather Smith, the award-winning author of The Agony of Bun O&'Keefe and Chicken Girl.