Title search results
By Michael Hutchinson. 2019
Electronic braille (Uncontracted), DAISY audio (CD), DAISY audio (Direct to player), DAISY audio (Zip), DAISY text (Direct to player), DAISY text (Zip), Word (Zip), ePub (Zip), Braille (Uncontracted)
Adventure stories, Canadian authors (Fiction)
Human-narrated audio, Human-transcribed braille
Sam, Otter, Atim, and Chickadee are four inseparable cousins growing up on the Windy Lake First Nation. Nicknamed the Mighty…
Muskrats for their habit of laughing, fighting, and exploring together, the cousins find that each new adventure adds to their reputation. When a visiting archaeologist goes missing, the cousins decide to solve the mystery of his disappearance. In the midst of community conflict, family concerns, and environmental protests, the four get busy following every lead. From their base of operations in a fort made out of an old school bus, the Mighty Muskrats won't let anything stop them from solving their case! Grades 4-7. 2019.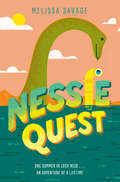 Braille (Contracted), Electronic braille (Contracted), DAISY Audio (CD), DAISY Audio (Direct to Player), DAISY Audio (Zip), DAISY text (Direct to player), DAISY text (Zip), Word (Zip), ePub (Zip)
Adventure stories, Mysteries and crime stories
Synthetic audio, Automated braille
Fans of Erin Entrada Kelly's Hello, Universe and Melissa Savage's own Lemons will devour this voice-driven novel packed with humor…
and heart about two friends who head off on an adventure to find the Loch Ness Monster.Ada Ru finally thought her parents were going to agree to a Fitzhugh family vacation in Disney World the summer before sixth grade, until her father announces he's taking a teaching position in Scotland, and moving the family there for the entire summer. Ada Ru is anything but happy. She doesn't like their new home, she hates haggis, and she certainly doesn't like the idea that she will be away from her best friend all summer. To top it all off, there is said to be a monster in the lake near their house! That's when she meets Hamish Bean Timmy, Hammy Bean for short, captain of the Nessie Quest Monster Chaser boat tour. He knows everything there is to know about the fabled Loch Ness Monster and Scotland. But as the two unlikely friends embark on an epic adventure to spot the lake monster, they end up discovering more than they ever could have imagined.