Title search results
By Terry Lynn Johnson. 2019
Braille (Contracted), Electronic braille (Contracted), DAISY Audio (CD), DAISY Audio (Direct to Player), DAISY Audio (Zip), DAISY text (Direct to player), DAISY text (Zip), Word (Zip), ePub (Zip)
Adventure stories, Animal stories, General fiction, Multi-cultural fiction
Synthetic audio, Automated braille
From the author of Ice Dogs comes a riveting adventure about a musher who sets out to prove her impaired…
vision won't hold her back from competing in a rigorous sled race through the Canadian wilderness. Perfect for fans of Gary Paulsen. McKenna Barney is trying to hide her worsening eyesight and has been isolating herself for the last year. But at the request of her little sister, she signs up for a commemorative mail run race in the Canadian wilderness—a race she doesn&'t know if she can even see to run.    Winning would mean getting her disease—and her sister&'s—national media coverage, but it would also pit McKenna and her team of eight sled dogs against racers from across the globe for three days of shifting lake ice, sudden owl attacks, snow squalls, and bitterly cold nights.  A page-turning adventure about living with disability and surviving the wilderness, Dog Driven is the story of one girl&'s self-determination and the courage it takes to trust in others.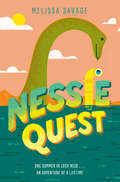 Braille (Contracted), Electronic braille (Contracted), DAISY Audio (CD), DAISY Audio (Direct to Player), DAISY Audio (Zip), DAISY text (Direct to player), DAISY text (Zip), Word (Zip), ePub (Zip)
Adventure stories, Mysteries and crime stories
Synthetic audio, Automated braille
Fans of Erin Entrada Kelly's Hello, Universe and Melissa Savage's own Lemons will devour this voice-driven novel packed with humor…
and heart about two friends who head off on an adventure to find the Loch Ness Monster.Ada Ru finally thought her parents were going to agree to a Fitzhugh family vacation in Disney World the summer before sixth grade, until her father announces he's taking a teaching position in Scotland, and moving the family there for the entire summer. Ada Ru is anything but happy. She doesn't like their new home, she hates haggis, and she certainly doesn't like the idea that she will be away from her best friend all summer. To top it all off, there is said to be a monster in the lake near their house! That's when she meets Hamish Bean Timmy, Hammy Bean for short, captain of the Nessie Quest Monster Chaser boat tour. He knows everything there is to know about the fabled Loch Ness Monster and Scotland. But as the two unlikely friends embark on an epic adventure to spot the lake monster, they end up discovering more than they ever could have imagined.