Title search results
By Stephanie MacKendrick. 2020
Braille (Contracted), Electronic braille (Contracted), DAISY Audio (CD), DAISY Audio (Direct to Player), DAISY Audio (Zip), DAISY text (Direct to player), DAISY text (Zip), Word (Zip), ePub (Zip)
Politics and government biography, Politics and government, Women biography
Synthetic audio, Human-transcribed braille
Written for young women interested in running for office, this book is unlike any other, with inspiring stories of eighteen…
women role models along with the all the tools and resources needed to get a campaign off the ground. Stephanie MacKendrick, a former journalist now dedicated to women's career advancement, believes the time for women in political leadership is now. Judging by the recent wave of activism that developed into a flood of women seeking elected office, she's not alone. MacKendrick has created a one-of-kind insider's guide for young women interested in joining this movement and becoming part of the political system. It explores everything from what to expect in a campaign, to how to deal with the inevitable challenges, to why it's worth it to run. It combines uplifting stories of women who have run for office with practical strategies for doing so. Perfect as both a cover-to-cover read and a reference tool, the text is divided into three parts: first, engaging profiles that include the personal advice and encouragement of eighteen women who have run for office across the political spectrum, around the world and at all levels of politics, from Michelle Wu, past president of the Boston City Council, to Jacinda Ardern, prime minister of New Zealand; second, a detailed twelve-step campaign plan with advice on developing the qualities needed to run; and third, a collection of articles, books and organizations to help eager readers learn more. Also included is a foreword by Anne Moses, founder and president of IGNITE. Offering equal parts inspiration and information, this unique guidebook is just the thing to help young women transform "I'll think about it" into "I'll do it!"
Braille (Contracted), Electronic braille (Contracted), DAISY Audio (CD), DAISY Audio (Direct to Player), DAISY Audio (Zip), DAISY text (Direct to player), DAISY text (Zip), Word (Zip), ePub (Zip)
General fiction, Fantasy
Synthetic audio, Human-transcribed braille
A riveting story of discovery, forbidden romance and idealism against all odds, set in a fantasy world inspired in part…
by Indian history and myth. For fans of Sabaa Tahir and Tomi Adeyemi.Gul has spent her life running. She has a star-shaped birthmark on her arm, and in the kingdom of Ambar, girls with such birthmarks have been disappearing for years. Gul's mark is what caused her parents' murder at the hand of King Lohar's ruthless soldiers and forced her into hiding to protect her own life. So when a group of rebel women called the Sisters of the Golden Lotus rescue her, take her in, and train her in warrior magic, Gul wants only one thing: revenge. Cavas lives in the tenements, and he's just about ready to sign his life over to the king's army. His father is terminally ill, and Cavas will do anything to save him. But sparks fly when he meets a mysterious girl—Gul—in the capital's bazaar, and as the chemistry between them undeniably grows, he becomes entangled in a mission of vengeance—and discovers a magic he never expected to find. Dangerous circumstances have brought Gul and Cavas together at the king's domain in Ambar Fort . . . a world with secrets deadlier than their own. Exploring identity, class struggles, and high-stakes romance, Hunted by the Sky is a gripping adventure set in a world inspired by medieval India.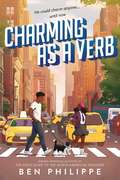 Braille (Contracted), Electronic braille (Contracted), DAISY Audio (CD), DAISY Audio (Direct to Player), DAISY Audio (Zip), DAISY text (Direct to player), DAISY text (Zip), Word (Zip), ePub (Zip)
Humourous fiction, General fiction
Synthetic audio, Automated braille
From the award-winning author of The Field Guide to the North American Teenager comes a whip-smart and layered romantic comedy.…
Perfect for fans of Nicola Yoon and Jenny Han. Henri "Halti" Haltiwanger can charm just about anyone. He is a star debater and popular student at the prestigious FATE academy, the dutiful first-generation Haitian son, and the trusted dog walker for his wealthy New York City neighbors. But his easy smiles mask a burning ambition to attend his dream college, Columbia University. There is only one person who seems immune to Henri's charms: his "intense" classmate and neighbor Corinne Troy. When she uncovers Henri's less-than-honest dog-walking scheme, she blackmails him into helping her change her image at school. Henri agrees, seeing a potential upside for himself. Soon what started as a mutual hustle turns into something more surprising than either of them ever bargained for. . . . This is a sharply funny and insightful novel about the countless hustles we have to keep from doing the hardest thing: being ourselves.